Posted on
AIA worker wins first National Corporate Public Speaking Championship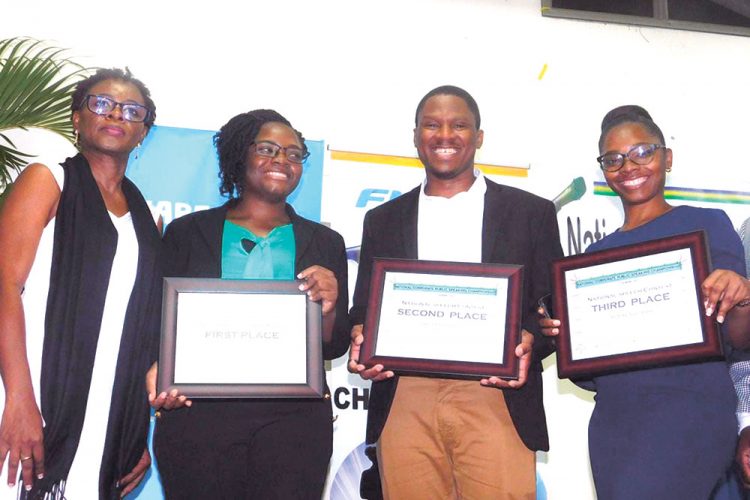 An operations officer at the Argyle International Airport (AIA) has been named the winner of the first ever National Corporate Public Speaking Championship in St Vincent and the Grenadines.
Trackeisha Davis was triumphant at last Saturday's final round of competition, where she competed against four other finalists for the title.
The finalists delivered prepared speeches on the topic, "The role of social media in business".
"My aim for the contest was honestly to do my best and make each speech better than my previous one. That is what makes me happiest. I gave the championship my best and learned to tame my nerves in the process," she told SEARCHLIGHT.
Davis congratulated her fellow public speakers for doing well in the final round of competition and said that they should all be "considered winners as we overcame our fears of public speaking and the associated expectations".
She said that her motivation to participate in the competition was fuelled by her childhood desire to participate in the National Secondary Schools Public Speaking Competition.
Despite her initial reservations about competing, the 24-year-old said that she has learnt a lot by being a part of the competition.
"This championship showed me that I work best under pressure…I'm able to contain my composure well while doing so. Before each speech was the most nervous I ever recall being where the nervousness seemed to intensify at each round. However, when I sought feedback, that was not what the viewers saw," she said. "Also, a speakers ability to deliver their speech in a manner to connect with the audience is what makes a great public speaker, not necessarily content – though content is important – sometimes, less is more when delivering a speech."
Davis thanked the Creative Thinkers Toastmasters Club for spearheading the competition and said she hoped they get the support from the business community to continue for years to come.
She also expressed gratitude to the management and staff of AIA, her family and friends for supporting her throughout the entire competition.
Cavel King Jr and Iyande Bramble were both from Massy Stores SVG and placed second and third respectively.
In the impromptu round, King took first place, Davis placed second and Moise Cummings of the Royal St Vincent and the Grenadines Police Force placed third.
All contestants spoke on the question; "What would you do differently if you knew nobody would judge you?"
The other finalist was Marla Nanton-James of XS Steel Inc.