Posted on
Farewell to Father Kari X. Marcelle and Family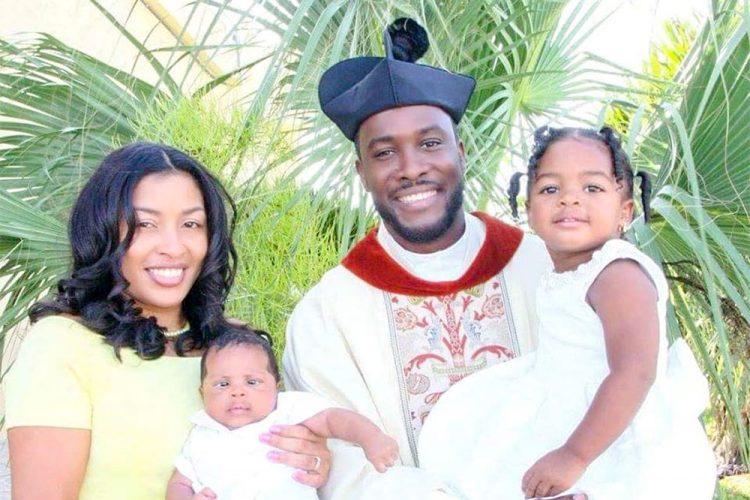 by: The Holy Trinity Bible Study Group
FATHER KARI XAVIER MARCELLE was appointed Priest in charge of The Parish of Holy Trinity Church Georgetown on February 1, 2013. He served God and the Parish faithfully and passionately with enthusiasm and vigour during his six years of ministry among us!
When Father Marcelle came to our Parish, the Lord knew that we needed a Priest with the various qualities that he possesses. He brought his thoughtfulness, dedication and commitment to God's holy word.
In his short span at Holy Trinity he fostered spiritual growth and development especially through our vibrant and enlightening bible studies. He also ensured that our places of worship were upgraded to pristine conditions by completing various restorative work throughout the Parish. He has worked tirelessly to make Holy Trinity "The bestest best church in the whole wide world".
Under his leadership, we saw the creation of various ministries and programs in the church such as the "Feed the Hungry Program", which operated on Wednesdays at The Parish Hall in Georgetown and welcomed all the less fortunate individual of all ages in the community to partake of hot meals.
Father Marcelle and his family are getting ready to leave our shores to return as Rector and Priest in charge of a Parish in his homeland; The Bahamas.
We the members of Holy Trinity Parish which includes, St John's Owia, Holy Name Sandy Bay, Holy Trinity Georgetown, Byrea Chapel and St Peter's Mt Grenan churches would love to let him know that we appreciate all that he has done for us and thank God for using him in the short period God allowed him to be with us.
Father Kari Marcelle our Priest, teacher and friend, you have done an excellent job, not for your own glory but for the glory of the One and Only True Living God. You have been a tremendous blessing to us, we love you immensely and you would be greatly missed. May the Lord bless you and your family as you embark on a new journey.