Posted on
Flow kick starts Special Olympics football programme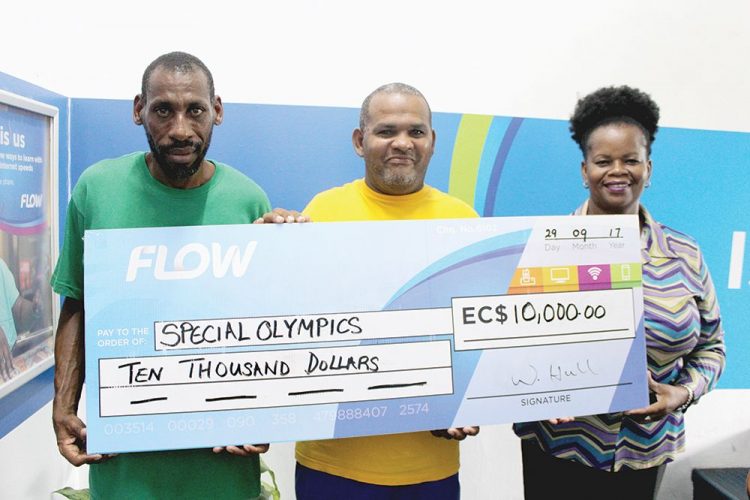 FLOW has got the ball rolling on the Special Olympics "Kick It" unified football programme with a donation of EC$10,000.
And, national director of Special Olympics St Vincent and the Grenadines (SVG) Sezezra Joseph is elated by the boost given to the initiative.
The money was handed over on September 29.
"I will like to thank them very much for choosing Special Olympics to give their support to because this programme is a worthwhile venture that appeals to a marginalized sector and any venture like this a corporate entity can support is something good," Joseph said.
The Kick It unified football programme brings together persons with and without disabilities on the same soccer team and Joseph is encouraging persons to join the programme.
She said the programme started in August 2016, with sessions having been held so far in Bequia, Georgetown, South Rivers, Stubbs, Kingstown and Layou. Another session will soon be held in Layou.
Joseph said persons from the different soccer clubs in the communities will be invited to come out, while persons who care for children with disabilities are also invited to attend the sessions.
She said while they do not have transportation to pick up the children, efforts are being made to set up community meetings to which caregivers of children with these challenges will be invited to come out and discuss the initiative.
"This is a young athletes' programme that introduces kids to sports," said Joseph, who added that they will be having a competition at the end of the year, which will see persons with and without disabilities on the same teams.
The Kick It programme has support from the FIFA Football for Hope initiative. The programme is run by several volunteer coaches, led by head coach Roger Gurley.