Posted on
Preliminary judging in NTRC I2 Competition begins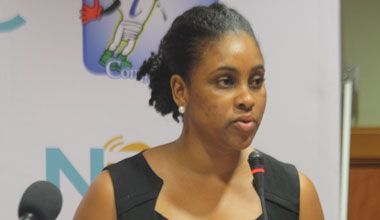 The preliminary judging for the 2015 edition of the National Telecommunications Regulatory Commission's (NTRC) Ideas and Innovations/i2 Competition continues next Monday at the National Insurance Services (NIS) training room.{{more}}
Students from tertiary institutions here will present their ideas and their mobile applications to a panel of judges. The judges will then choose five groups from each category to take part in the finals of the competition, which takes place on January 14, 2016.
Last Monday, November 16, students from the secondary schools presented their ideas and mobile applications to the judges, while last Wednesday, November 18, students from the Union Island Secondary School presented to the judges on Union Island.
The finalists will soon be announced.
Project co-coordinator and Universal Service Fund (USF) operations officer (NTRC) Keisha Gurley said that for the second consecutive year, prior to the preliminary judging, the NTRC teamed up with Toastmasters International to provide students with presentation tips.
She said that the NTRC had, before the presentations, invited students to take part in a one-day session with Ryan Hazell of Toastmasters, where the students were schooled on presentation skills, among other aspects of making oral presentations.
This year, some 37 groups entered the competition, 19 from the tertiary level and 18 from the secondary schools.
Winning presentations from the third annual i2 competition, which was launched on Friday, September 18, are expected to lead to cost savings for the Government ministries or result in the faster delivery of existing or new services to citizens.
The competition challenges students to develop and present projects in the form of ideas and mobile applications that can implement new systems or improve existing systems within the Public Service.