Posted on
NDP confident of election win at manifesto launch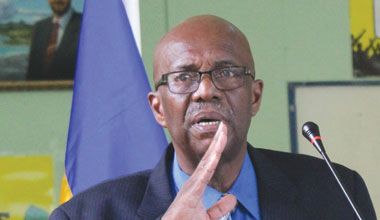 As he officially launched his party's manifesto, Arnhim Eustace, president of the New Democratic Party (NDP), expressed his confidence that his party will come out victorious at the December 9 polls.{{more}}
Last Wednesday, November 18, the NDP launched the hard copy of its manifesto, which was previously only available in digital format.
"We have taken the time to go into significant detail about what we propose to do as a government," said Eustace, referring to the 83-page document.
"We are going to win this election!" he asserted.
"Give us a chance, and we will show you what we can do for St Vincent and the Grenadines."
During his presentation, Eustace went over the 21 operational areas that his party will "take action on" if they are elected into government.
These operational sectors include fiscal policy and national debt, agriculture and fisheries, private sector development, ICT, tourism and Grenadines' affairs, financial services, health, physical planning and the environment, crime/national security and justice, education, the youth, sports, culture, family and women's issues, housing, energy, infrastructure, public sector reform, the diaspora, foreign affairs and the legislative programme.
The manifesto also includes a 15-point agenda 'to-do' list, which they will begin to implement soon after taking office; and a section outlining 10 initiatives that will begin "immediately" as part of the NDP's development strategy.
Additionally, Eustace criticized the current administration on the way it handles the national debt, the 'education revolution', and its plans for a tunnel under Cane Garden; and also criticized its "regressive" foreign policy, and several other issues, ranging across the various sectors.
Eustace also elaborated more on certain issues which appeared in the NDP manifesto, and also ones that did not.
These include: developing the tourism sector in North Leeward, with the introduction of a cable car system to take tourists to the peak of La Soufrière volcano and building a smaller cruise ship berth in the same constituency; re-introducing a development bank that is separate from the local commercial bank; restructuring the operation of the YES Programme, so that it incorporates the private sector; and encouraging the Garifuna diaspora to invest directly in the various local sectors, among others.
Also addressing the audience was NDP candidate for East St George Dr Linton Lewis, who emphasized that voters should not be intimidated nor deterred from casting their ballots on December 9.
"In St Vincent, we have a secret ballot. The impressions they give you – by the ULP – that they know who people vote for; the ballot is secret!"
In addition, he asserted that the NDP does not and would not indulge in political victimization once it comes into power.
"We are not involved in that. We are all about creating jobs…"
Also briefly addressing the audience were Central Kingstown candidate St Clair Leacock, Northern Grenadines candidate Dr Godwin Friday, and West Kingstown candidate Daniel Cummings.(JSV)