Posted on
SVG Distillers donates photocopier to police department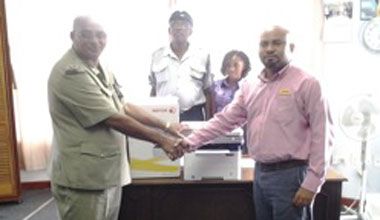 The Georgetown Police Department, a mainstay of the North Central Windward constituency, was the recipient of a new photocopier recently, courtesy the St Vincent Distillers, Ltd (SVDL), the area's largest employer.{{more}}
SVDL's brand manager Seon Ballah presented the new piece of equipment to Georgetown Police Superintendent Richard Brown at the station house last week Tuesday.
Speaking on behalf of the Eastern Division of the Royal St Vincent and the Grenadines Police Force, Superintendent Brown said, "Thanks to St Vincent Distillers Ltd for their kind donation…. Your commitment is exemplary and one which good corporate citizens should emulate.
"…On behalf of the Commissioner of Police, myself and all members of the Eastern Division of the police force, we thank you for your generous donation."
In presenting the gift, Ballah noted the important role the Georgetown police play in protecting the community, of which St Vincent Distillers is a large part.
St Vincent Distillers Ltd distills and produces Captain Bligh XO Rum, Sparrow's Aged Rum, SLR Rum and the very popular Sunset Strong Rum. Captain Bligh XO Rum won the prestigious title of World's Best Rum 2014 in London and Sparrow's Rum recently won a Gold Award in the Fifty Best Taste Competition 2015 in New York.
Over the years, SVDL has quietly promoted projects that assist local organizations and communities.