Posted on
Police officers better equipped to manage crime scenes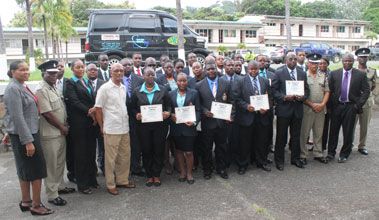 Some 25 law enforcement officers have benefited from training that will enable them to better manage crime scenes – thus reducing contamination, and ensuring that fewer cases against criminals get thrown out of court for such.{{more}}
Last Friday, October 2, the Regional Security System (RSS) Training Institute's 'Crime Scene First Responders Course' came to an end with a closing ceremony, hosted at the Police Training School at Old Montrose.
The seven-module course began on September 28, and is part of the RSS's corporate plan to standardize training in all RSS member states – allowing for a more structured response to the issue of crime, security and other threats to the region.
Permanent Secretary within the Ministry of National Security Godfred Pompey described the course as "timely intervention", and asserted that locally delivered training goes a longer way than those that participants have to travel abroad for.
"We have 25 participants, as opposed to… one or two, given financial constraints," Pompey explained.
He also noted that crime scene management is critical to the desired outcome of any criminal investigation.
"This aspect tends to be a serious problem and very challenging here in St Vincent and the Grenadines, given the human nature where we want to be as close as possible to the action…"
Pompey further explained that "first responders" must be mindful that the crime scene is "fragile", and all must be done to ensure that evidence is not contaminated or interfered with.
"Too often we are unable to build a proper case due to contaminated crime scenes."
He also encouraged the police and members of the media to assist in educating the public about the necessity of preserving and securing crime scenes.
Pompey also noted that he looks forward to the participants helping to "raise the bar" in terms of crime scene management in SVG.
ACP Yvonne Alexander (from Dominica), director of the RSS Training Institute, also delivered brief remarks.
She applauded the participants on successfully completing their training, and urged them to continue to supplement their learning by following up on the course material given to them.
"Use the new methods you were taught. Do not go back to where you were before you were exposed to this training… so that your performance at crime scenes can be improved," she implored.
"Our mandate is really to protect and to serve our citizenry and our countries. And as such, it is important that we are equipped with the necessary knowledge and skills to allow us to do so effectively."
Alexander said that the RSS Training Institute is always looking for ways to improve the service it offers police officers across the region in its quest to curb crime and increase safety.
She also expressed a hope that the course has piqued the interest of some of the police officers, and will encourage them to delve deeper into crime scene management and other crime scene disciplines.
One of the course facilitators, Inspector Samuel Joseph (from Antigua and Barbuda), congratulated the participants on completing the course, commending them for their "eagerness to learn".
"Continue to practise what we would have taught you over the week… Share your experiences and the knowledge with other officers in the various departments."
Also present at the closing ceremony was Commissioner of Police Michael Charles, who said that he was proud of the 25 participants' achievement.
He further commended the facilitators and everyone else who made the training available.
The closing ceremony also saw special presentations being made to instructors Inspector Samuel Joseph, Sergeant Christine Husbands and Sergeant Atland Browne.(JSV)