Posted on
Dr Gonsalves meets with Indian PM Shri Narendra Modi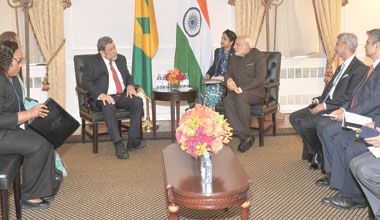 Gonsalves, who is in the United States to attend the 70th session of the United Nations General Assembly, had a fruitful discussion with his Indian counterpart on the sidelines of the summit.{{more}}
The Indian head of government immediately thanked Gonsalves for his leadership and congratulated St Vincent and the Grenadines (SVG) for the work done on United Nations Security Council reform, specifically the work done by the then Ambassador Camillo Gonsalves as spokesperson of the L 69, the largest reform group in the UN General Assembly. Modi further stated that the work of SVG was instrumental in arriving at the September 14, 2015 resolution in the General Assembly, which establishes for the first time the real possibility of text-based negotiations on UN Security Council reform during the 70th session.
The Vincentian Prime Minister reaffirmed the commitment of his country to working with India in achieving true United Nations Security Council reform, mentioning that SVG will bid for a non-permanent seat on the UN Security Council in 2020/2021 and if successful, would be the smallest country ever to be elected to the UN Security Council.
The issue of the appointment of an Honorary Consul of SVG to India was also discussed, with a view to defending the existing relations and advancing cooperation between both countries. Gonsalves noted that SVG has identified possible candidates and will work with the Indian Government in having this appointment made.
Both leaders also discussed cooperation in other areas such as education and training including scholarships for Vincentian students and other student exchange programmes, investments and Information Techno­logy. Prime Minister Modi suggested that an Indian delegation will explore the possibilities for deeper cooperation between both countries in the areas discussed, as well as other areas.
In addition, both leaders spoke about the existence of people of Indian descent in SVG and their involvement and integration in the Vincentian society, an issue of keen interest raised by Prime Minister Modi.
Gonsalves explained that there is a very active Vincentian population of peoples of Indian descent and that they are involved in all aspects of Vincentian life. Some of the areas of involvement outlined by the Prime Minister included business, the professions, the public service and the Foreign Service. Gonsalves informed Prime Minister Modi that SVG's longest serving diplomat, Cenio Lewis, High Commissioner to the United Kingdom, is of Indian descent.
Prime Minister Modi said that he is looking forward to meeting with Gonsalves in January of 2016, when he is scheduled to travel to India to attend a Global Gathering of People of Indian Origin and continuing the discussion on cross cultural cooperation between and St Vincent and the Grenadines and India.
The meeting ended with Prime Minister Gonsalves issuing an invitation to Prime Minister Modi to visit SVG, which the Indian Head of Government accepted, stating that he would be honoured to visit our Caribbean Island.
Gonsalves congratulated Modi on his excellent work being done in his home country and looked forward to deepened relations between both countries as they both pledged to continue to work together on areas of mutual interest.
Modi then swiftly took to Twitter to express his pleasure with the meeting with Gonsalves, tweeting "A great meeting with PM of St Vincent and the Grenadines, Mr Ralph Gonsalves."