Posted on
ECGC awards scholarships to students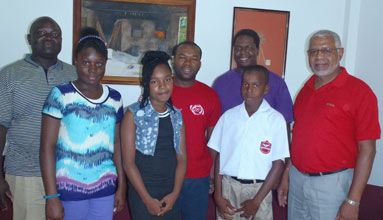 The East Caribbean Group of Companies (ECGC), on Friday, September 04, 2015, awarded scholarships to four students who were successful in the 2015 Caribbean Primary Exit Assessment (CPEA).{{more}}
The awards were provided under the company's Education Award Scheme, through which financial assistance is offered to the children of employees.
The company said since the inception of this programme in 1988, the ECGC has awarded more than 90 scholarships to students. The scholarships are tenable for five years of secondary education and two years at the St Vincent and the Grenadines Community College. Currently, there are 15 children on the programme.
Chief executive officer of the ECGC Osmond Davy congratulated the children on their achievements and encouraged them to continue their journey to excellence. He also told them that their success will depend on their discipline and commitment to do well.
The recipients of this year's awards are: Curticia Mattis and Al Deiah Jacobs, who will pursue secondary education at the Girls' High School; Shaielle Williams and Zendan Thomas, who are enrolled at the Bethel High School and the North Union Secondary School respectively.