Posted on
Marriaqua United Friendly Society (Bunpan) Scholarship, Awards 2015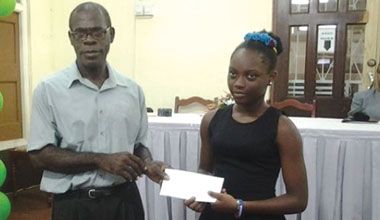 The Marriaqua United Friendly Society (Bunpan) held its Annual Scholarship and Awards ceremony on Wednesday, 12th August, at 10 a.m., at Mesopotamia. The 2015 Scholarship winner is Julicia Matthews of Richland Park. Julicia is the daughter of Mr Cheslon and Julia Matthews of Richland Park. She attended the Kingstown Preparatory School placing 54th for girls and 76th overall with an overall percentage of 87.60.{{more}}
The scholarship award has a duration of seven (7) years and includes the payment of fees for external examinations. Julicia will begin her secondary education at the St Vincent Girls High School on September 7th, 2015.
Additionally, one-time assistance towards school expenses was given to 22 other applicants who did not qualify for the scholarship. The students who benefit are either members or they are children of members.
President of the society Theophilus Shallow gave a brief history of Bunpan, which provides death benefits as its main business. He also tracked the progress of past scholarship holders who have become doctors, bankers, a Rhodes scholar and other notable professionals. Also present were vice-president Rickie Burnett, assistant secretary/treasurer Cecil Jackson, trustee Garvin Jackson and manager Margaret Clarke.
This year Bunpan joined forces with the group "Marry Ah Qua," founded by Ms Jazz "Pat" Andrews, which launched an appeal to provide financial assistance to needy children in the Marriaqua Valley. The group was represented by Mr Rickie Burnett and Ms Sheila Robertson. Presentations were made to parents and principals of the Primary Schools in the Marriaqua Valley.
The guest speaker was Mrs Pearline Marks, who encouraged students to study hard and avoid distractions that will hinder their educational progress and general development.