Posted on
Tourism service providers get licenses, certificates from SVG Tourism Authority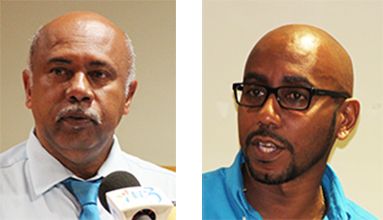 More than 100 taxi drivers, short-term vehicle rental operators and tour operators this week received certificates and licenses from the St Vincent and the Grenadines Tourism Authority (SVGTA).{{more}}
The tourism stakeholders and service providers received certificates in First Aid, CPR, communication skills and customer service and licences as approved tourism service providers of the SVGTA, at a ceremony held at the National Insurance Services conference room on Upper Bay Street on Tuesday.
The service providers were congratulated and thanked for completing the training programmes, which lasted several months, and were described as a long and at times, a disheartening journey.
Chief Executive Officer of the SVGTA Glen Beache urged the recipients to be "better than good" in the services they offer, stating that customer service is one of the characteristics that investors look for when they consider moving into a territory.
He lauded the stakeholders for enduring through the sessions, pointing out that this country was one of the few to put the benchmarks into action.
"Anybody who has listened to me speak would know that I continuously say that we are up against every other country in the world for that tourism dollar, and one of the biggest selling points when we met with the airlines and cruise lines is the fact that we are implementing these standards.
"When we started this process, I was one that believed that we were one of the last countries within the Caribbean to implement these standards, only to find out as we were going through that we were one of the first; many have started, but very few of them have completed," Beache noted.
He also advocated that the training learned during the sessions is to be applied to local service users as well, and for the providers take pride in what they do.
Also commending the awardees was Minister of Tourism Cecil Mckie, who indicated that the service provided by the stakeholders was just as vital as the other components of tourism, and needed to be upgraded.
"In fact, if we leave just one unattended, it can very well lead to so much negative comments that it could possibly collapse the industry.
"So it is very important that we engage and collaborate with all of the stakeholders across the sector so that we all understand our role and importance in advancing the sector.
"We have to lift our game and our standards so that we nose ahead of our competition; that we could be singled out as being indeed the premier tourism destination in the region."
Mckie called on the stakeholders to all be on board for the further developing of the product, bearing in mind that more visitors are expected to visit these shores, when the international airport at Argyle comes on stream.
The officials reminded the stakeholders that unlicensed service providers would be facing fines beginning at the end of January next year, and urged those who were not certified to do so as soon as possible.
Other components of the tourism industry are expected to be certified and licensed soon. (JJ)