Posted on
Foreign uniformed soldiers on construction missions nothing new – PM Gonsalves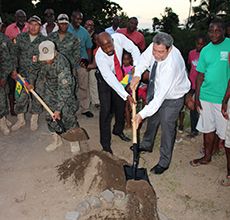 The presence of uniformed soldiers performing construction missions in St Vincent and the Grenadines is nothing new to this country, says Prime Minister Dr Ralph Gonsalves.{{more}}
Gonsalves dismissed what he termed as "foolishness," persons who questioned the fact that members of the Ecuadorian Army Corps of Engineers are wearing military fatigues while here constructing bridges in Vermont and in Chateaubelair.
At the soil turning ceremony in Chateaubelair on Tuesday, December 2, to mark the beginning of works in the area, Gonsalves gave examples of previous occasions when soldiers visited these shores and performed their assignments in uniform.
"They built a hard court in Campden Park…and they also built a facility in East St George wearing their uniforms.
"In December, we had military personnel here in uniform from Canada and from France and we welcomed them….
"You want to tell me that Americans can come and wear their uniforms and build facilities, but Ecuadorians can't do it?" Gonsalves asked the audience.
"America and Europe are very important friends of ours, but so too are other countries, including the Republic of Ecuador, and I want to thank them.
"They are soldiers, and soldiers wear uniforms. Priests wear cassocks and priestly clothing, so too do soldiers wear their military garment."
Gonsalves thanked the 44 soldiers who arrived in October for their solidarity, and called on people in the various communities to work along with the soldiers in the construction process, which is expected to take approximately eight months. 
Tuesday's ceremony took place at the site in Plan, Chateaubelair, where a bailey bridge is expected to replace the weakened concrete structure currently in place. 
The integrity of the original bridge was compromised after the passage of trough systems over St Vincent on December 24 last year.
The rains and floods also destroyed structures at Cacarta in Fitz Hughes, as well as Top Sharpes, where bailey bridges are also to be constructed. A fourth bridge, projected to be a 24-metre-long concrete structure, is to be constructed in Hope, Vermont; all by members of the Ecuadorian team who arrived in October to begin the process.
At Tuesday's ceremony, Prime Minister Dr Ralph Gonsalves indicated that the bridges would be constructed at a cost of $11.3 million.(JJ)