Posted on
Scotia Bank proud to endorse Rodney Small's Steel Expressions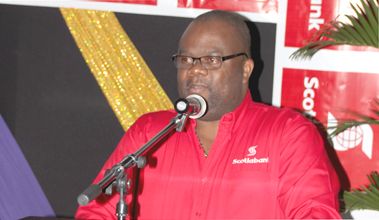 Country Manager of the Bank of Nova Scotia Fitzaudy Wright says that his financial institution is proud to be associated with the third installment of Steel Expressions, and he is personally looking forward to the production.{{more}}
Wright, making an address at the media launch on Tuesday night at Grenadine House in Kingstown Park, told the audience that he believes it would have been a mistake not to partner with Steel Expressions' creator Rodney Small in the venture, which is in its third year.
"I have heard accolades of wonderful things about what happened last year, and it would have been remiss of me to not support this function again, because I also want to experience the wonderful things I heard about last year," Wright said.
"If it is that Rodney and his team attempt to deliver what they did last year, again St Vincent would be wonderful beneficiaries of great cultural expressions," he added.
The Jamaican manager joked that when he met with Small and his production team, who have titled this year's production "I Am Legend," he was concerned about how his two favourite legends: Lucky Dube and Bob Marley, were going to perform.
He echoed the sentiment of Scotiabank's last manager Basil Alexander, that he was so impressed with their sales pitch that he could not say no to becoming the event's platinum sponsor.
"I was pleased to be made to understand that it was a celebration of their legendary status, and to celebrate also the living legends of St Vincent.
"So, on behalf of Scotiabank it is our pleasure to be associated with this wonderful gesture, and what is pleasing to me is that Rodney has actually committed to donating some of the proceeds to charity, because we believe that's an important avenue of any production of this sort.
"Scotiabank is very pleased to be associated with this wonderful production for the second year running, because it falls squarely into our vision and our pledge to celebrate local culture as best as we can," Wright stated.