Posted on
Microfinance and Cooperative Development expert impressed with FSC staff capabilities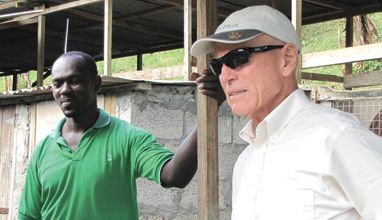 International Finance and Cooperative Development expert Iven Ose has commended the staff of the Farmers Support Company Ltd (FSC) on a "job well done" as it relates to the company's day-to-day operations.{{more}}
The FSC staff were, on November 19, engaged in the one-day training, which focused on Micro financing Financial Institution's Sustainability.
The training, which was spearheaded by the St Vincent Cocoa Company and facilitated by Ose, had as its aim to build the human resource base of the Farmers Support Company.
According to Ose, the backbone of the FSC's sustainability is the loan recovery and loan repayment.
He noted, however, that there is opportunity for improvement.
"We've had a lot of discussions and came up with a lot of ideas, most of them from the FSC.
"I'm hoping that the Farmers Support Company will evolve into such an institution so that it can serve over the long haul for the farmers of St Vincent and the Grenadines.
"It's been my pleasure working with Ms Charlene Garrick, the general manager for the Farmers Support Company and her team. I am very impressed by their capabilities and I look forward to seeing positive results in the future," Ose said.