Posted on
21 organizations take part in media workshop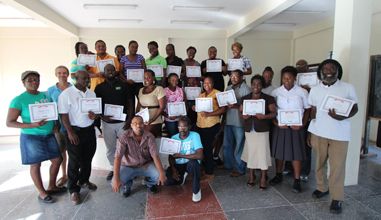 Twenty-one organizations on Union Island can now effectively disseminate information to the public after participating in a Media and Climate Change Awareness training workshop on Wednesday, November 5, hosted by Radio Grenadines.{{more}}
The training workshop was part of a Radio Grenadines project that is funded by GEF SGP, UNDP to raise awareness on climate change and environmental issues through the establishment of an Internet radio and media facility in the Grenadines. The project will run for one year, from September 2014 to August 2015.
Organizations that participated were: 4H Club, AMCO, Union Island Lions Club, Union Island Fisher Folk, Union Island Secondary School, Union Island Nature Adventure Tours, Pathfinder Club, Central Water and Sewerage Authority, Union Island Environmental Attackers, Union Island Tourist Bureau, Mary Hutchinson Primary, Union Island Easterval Committee, Southern Grenadines Basketball Association, Nurse Celina Clouden Hospital, Friends of Union Island Tourism Association, Union Island Netball Association, Union Island Sailing School, Stephanie Browne Primary, Sustainable Grenadines Inc, Tobago Cays Marine Park and Division of Sports – Union Island.
Participants were instructed on the basics of writing a formal press release, how to manage their organization resources by choosing relevant target audiences and using photos and videos to document their activities. During participatory sessions, persons were able to draft and present a sample release for critiques from the class. Katrina Collins, president of the Union Island Environmental Attackers and an environmental activist, delivered a lecture on Climate Change and the impacts on small islands.
The training workshop brought new energy and motivation to some dormant organizations through a motivational talk from Stanton Gomes, founder of Radio Grenadines, sharing simple ideas for making use of limited resources.
This is the third workshop held in the Grenadines. Community organizations on Bequia and Canouan were trained on September 22 and October 6 respectively. Participants received their certificates of participation after the training session.