Posted on
Coreas donates to Guadalupe Home for girls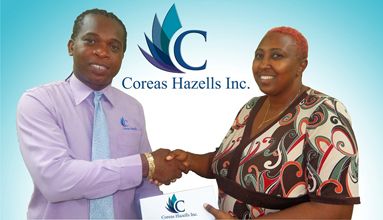 Coreas Hazells Inc has made a donation of $2,000 to the Guadalupe Home for girls. The cheque was handed over on Friday, October 17 to Salene Dopwell, administrator of the home.{{more}}
The instituion, which was established by Roman Catholic Sisters of St Joseph of Cluny and is located at Cane End, Mesopotamia, was set up to care for girls who are abused and battered.
Esworth "Ezzie" Roberts, senior marketing coordinator, handed over the cheque and stated "Coreas Hazells Inc, in recognizing the importance of the establishment and continued existence of this institution is hereby making a contribution."
He continued, "We would also like to encourage other businesses, organizations and individuals to come forward and offer whatever assistance they can afford."
According to Dopwell, the survival of the home depends on the generosity of the Government of St Vincent and the Grenadines and their benefactors. She extended much thanks to Coreas Hazells Inc for the timely contribution.
Organisations or individuals wishing to make donations can contact the Guadalupe Home for Girls at 784 451 3968 or e-mail: [email protected]