Posted on
Conditions must be met before 'Bigger Biggs' can resume mining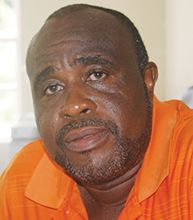 Although Leon 'Bigger Biggs' Samuel's licence to mine aggregate was reinstated after being revoked almost four years ago, there are stipulations which must be adhered to before he can resume operations.{{more}}
On Tuesday, October 7, on Star Radio's ULP Speaks programme, Julian Francis, Minister of State in the Ministry of Works, read from a document that he had received from the technical committee of the Physical Planning Unit, which outlined the conditions.
According to the document, should Samuel fail to comply, penalties would be incurred.
"Failure to comply with a revocation or refusal of planning permission or to otherwise observe any condition imposed herein renders the party responsible liable to the penalties provided in Section 16 and 18 of the Town and Country Planning Act 1992."
Francis pointed out that most of the current stipulated conditions are a repetition of those outlined in Samuel's 2008 approved licence.
The conditions laid out by the National Quarries Board are as follows:
o All mining, inclusive of crushing and sifting activities, is to be carried out within the surveyed boundaries of Lot 6 of survey plan C364, as lodged in the Lands and Surveys Department.
o Installation of "unstable embankment caution" signs along embankment of the Lady Jane and the Rabacca Rivers.
o Adhere to guidelines of the submitted Environmental Management Plan prepared by the Institute for Environmental Research and Technology, December 2007.
o Mining is permitted at a depth not exceeding 12 feet.
o All top soil must be removed and stored for the restoration of the site.
o Development will be subject to periodic monitoring.
o Further mining operations on the site may be subject to the conditions of the final master plan for the Rabacca National Park.
o The access road must remain open.
o Maintain a buffer zone of minimum 20 feet along the river banks where Lot 6 of survey plan 364 coincides with the river.
On Wednesday, October 8, Samuel's licence application also went before Cabinet for approval – as he had been informed would be the procedure in a September 26 meeting with the Physical Planning Unit's technical team.
The technical team included Chief Engineer Brent Bailey, Town Planner Colin Campbell, Planning Officer 1 (Physical Planning Unit) Shelford Stowe, and Chief Technical Officer (Ministry of Housing) Anthony Bowman.
Samuel represented Bigger Trucking and Blocks Construction Company Ltd, along with attorneys Bayliss Frederick and A. John, Glenford Stewart, Margaret London, and Clive Bishop.
In 2011, the Physical Planning and Development Board revoked permission for Samuel and his company to conduct mining on lands at Rabacca, on the grounds that his company was not adhering to the stipulations in the Environmental Management Plan.