Posted on
Vitamalt rewards another lucky customer with US$150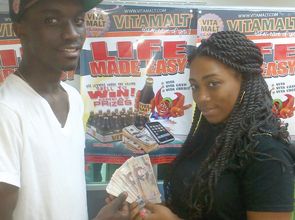 The St Vincent Brewery Limited's 'Vitamalt-Life Made Easy' promotion ends next Monday, September 29, but in the meantime, the promotion continues to make persons happy by giving them much needed cash.{{more}}
The latest person to win US$150 in the 'Vitamalt-Life Made Easy' promotion is Kenson Edwards.
Edwards was rewarded with cash when he produced Vitamalt crowns that spelt 'VITA CASH'.
The Vitamalt-Life Made Easy' promotion was launched on Monday, August 18th at the Brewery and allows Vitamalt drinkers to win cash, 4G cellular devices, phone credit and Vitamalt four packs.
To win, Vitamalt drinkers must look under the crown for individual letters that can be combined to spell either 'VITA CASH', 'VITA CREDIT' or just simply 'VITA' and, as a result, win prizes.
Persons who have eight crowns with the letters that spell 'VITA CASH' will instantly win US$150, while persons with 10 crowns that spell 'VITA CREDIT' will win a 4G ready handset and credit. Also, simply have four crowns that spell 'VITA' and you will get a six-pack of Vitamalt.
Some winners in the promotion included Alvin Patrick, Olanzo Mills, Rondique Deane and David Harry.