Posted on
Vincentian cited as one of Miami's 25 most influential and prominent black women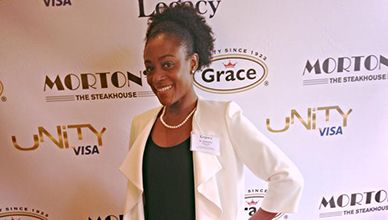 CEO of Tarakon Records and founder of Imara Engineering, Vincentian Dr Jacqueline James-Lyttle has been honoured by Legacy Miami Magazine as one of Miami's 25 most influential women in Business and Leadership in 2014.{{more}}
Dr James-Lyttle received the honour last Friday, September 19, at a luncheon in Miami.
The women honored represented the cream of the crop in Miami, Florida and are seen as remarkable examples of accomplished black female professionals who have contributed their talents to the community. The honorees represented a broad spectrum of fields, including banking, the arts, law, community and cultural development, public service, accounting and more.
"I work without expecting reward or recognition, knowing that I do what I do for love of family and love of the businesses. When I receive an award, it comes as a pleasant surprise and it overwhelms me with joy. I am very grateful, so grateful to all who support me and recognize my work. I am motivated and humbled." said Dr James-Lyttle.
Dr James-Lyttle is the wife of Vincentian multi platinum selling, international soca superstar Kevin Lyttle. Tarakon Records was founded in 2007 by Kevin Lyttle, whilst Dr James-Lyttle founded Imara Engineering Consulting and currently practises in South Florida. Imara serves the US and Caribbean, providing services in green building design and engineering, renderings, construction management, systems integration, sustainable "green" design and certification, energy analysis, computational fluid dynamics "CFD" and interior design services.