Posted on
Jamaican Oxtail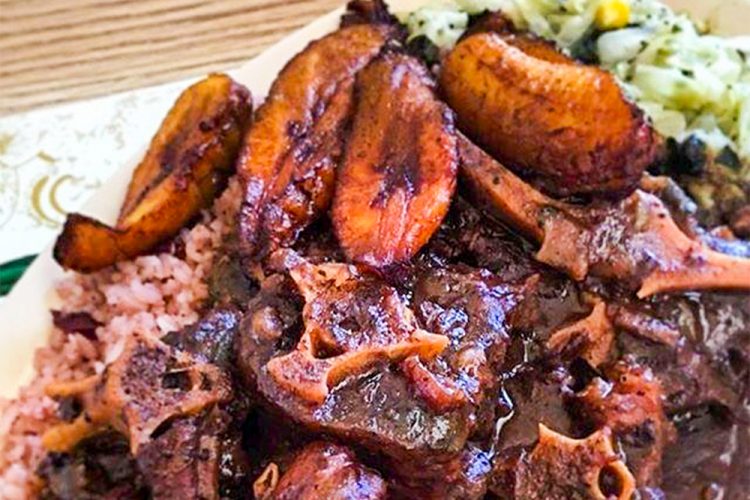 It's always fun to try dishes from another country. I have had oxtail before and really enjoyed it, but never cooked it myself. I think it's high time to try it. So, we will all be trying this recipe together. Let me know how it turns out.
You will need:
3 lbs. oxtail (cow tail cup up)
1 tsp. salt 
2 tbsp. vegetable oil 
Water to cook the oxtail 
Dry marinate 
1 tsp. black pepper 
1 1 /2 tsp. paprika 
1 tsp. red cayenne pepper (optional)
1 tsp. dried basil leaves 
1 tsp. ground cumin 
Wet marinade 
3 tbsp soy sauce 
1 tbsp Worcestershire sauce 
1 tbsp. food browning 
Natural herbs 
a few stalks of Chives 
1 sprig fresh thyme 
Few slices hot pepper (optional)
1 clove garlic 
4 pimento peppers
1 onion sliced
Method: 
Mix dry marinate together in a small bowl. In a large bowl season oxtail with salt and dry marinate; use hand to rub directly onto the oxtail. In a blender or food processor, blend or process the wet marinade and natural herbs until well combined. Rub the marinade onto the oxtail, cover and set aside for at least 30 minutes or overnight in the refrigerator. Put a Dutch pot or regular pot on high heat with 2 tbsp. vegetable oil to be hot. Add the seasoned oxtail as well as the marinate sauce into the hot oil, stir and cover. When the oxtail begins to fry, add enough water to cover the oxtail. When the water reduces, add more water – continue to add water until oxtail is cooked and tender. Enhance the taste by adding more salt if needed. Simmer over low heat until gravy thickens, remove from heat.
Tips: Most people used a pressure cooker to cook oxtail. Feel free to use our local green seasoning if you so desire.