Posted on
West Indies U19 secure 20-run victory against South Africa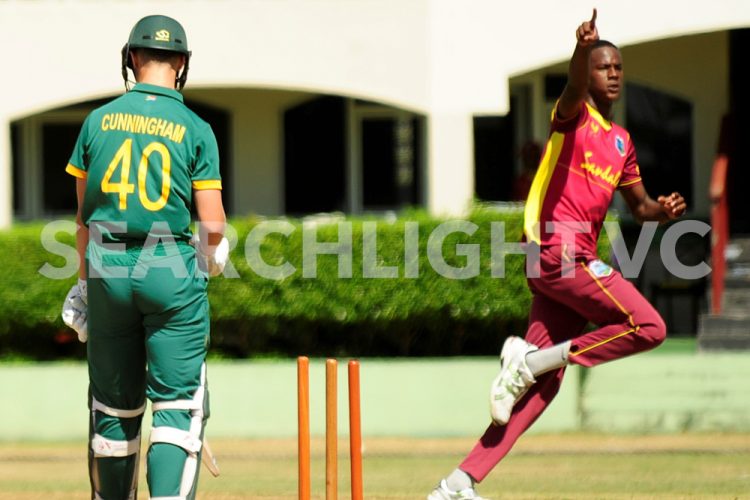 Story and Photos by Robertson Henry
The West Indies Under-19 secured a 20-run victory against South Africa Under-19s in the fourth and final game of the Youth One Day International Series, at the Arnos Vale One cricket ground to square the four match series 2-all.
Having won the toss, the West Indies Under-19 decided to take first knock. Teddy Bishop top-scored with 43 in the Windies total of 126 from 35 overs. Rivaldo Clarke made 30, and Jaden Carmichael contributed10, as wickets fell at 1 for 5, 2 for 12, 3 for 16, 4 for 74, 5 for 85, 6 for 104, 7 for 104, 8 for 116, 9 for 124, and 126 all out.
Bowling for South Africa, Dewald Brevis took 4 for 11, Aphiwe Mnyanda 2 for 19, and Mathew Boast 2 for 41, with 21 extras comprising 13 wides, 1 leg-bye, 5 byes,and 2 no-balls.
In reply, South Africa, chasing a target of 127, were restricted to 107 in 23.5 overs. Aphiwe Mnyanda top-scored with 20, Valentine Kitime chipped in with 13, and Joshua Stephenson 11. South Africa lost wickets at 1 for 8, 2 for 12, 3 for 29, 4 for 37, 5 for 51, 6 for 56, 7 for 58, 8 for 65, 9 for 74, all out 107; West Indies Under-19 winning by 20 runs.
Jaden Carmichael led the destruction with 3 for 14, McKenny Clarke 3 for 23, and Johann Layne who took the first three wickets to fall finished with 3 for 34. Layne was voted Man-of-the-Series.
The series saw both teams in a ding dong battle with South Africa taking the first game in the series in an 18 runs win at Cumberland on December 26. Two days later, West Indies Under 19's won the second game to square the series One game apiece at Arnos Vale one on December 28. However, South Africa came back to win the third game by one wicket at Cumberland to set up yesterday's exciting billing that saw West Indies squaring the series two games apiece.
The two sides are preparing for the Men's Under 19 Cricket World Cup (CWC) which is being hosted by Cricket West Indies (CWI), from January 14-February 5.