Posted on
Sir James laid to rest (+ video)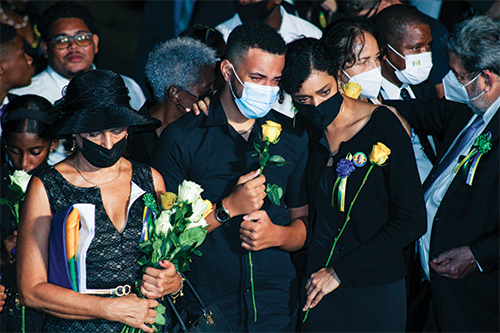 by Bria King
Members of the Mitchell family clutched yellow and white roses in their hands as they wept silently at the scene of a father, grandfather, author, politician and former prime minister being lowered into his final resting place last weekend.
At around 6:30pm on Saturday, December 18, Sir James FitzAllen Mitchell was being lowered into his grave at the Mitchell family cemetery at Mt Pleasant, Bequia, where he now rests as though he were looking out to sea over the private island, Isle a Quatre.
Flood lights illuminated the remote area where local politicians, dignitaries, close relatives, friends and members of the community all gathered to "crown him with roses" and pay their final respects to the statesman who was sent off to the musical renditions from the Royal St Vincent and the Grenadines Police Force band.
But before he was officially laid to rest, the former premier and this country's second prime minister's body lay in state at the House of Assembly for about five hours on Friday, December 17, where officials and members of the public had the opportunity to pay their final respects.
A special ceremony was also held in the afternoon at Democrat House, the New Democratic Party (NDP) headquarters for the veteran politician who founded the party several decades ago.
Sir James' state funeral lasted an entire day with two church services; one at the Kingstown Methodist Church (according to Anglican rites) and another at the St Mary's Anglican Church in Bequia.
"We have brought Sir James home for the last time, this man who has travelled the world. His sojourn in Barbados and the hospital in Kingstown is over. His trips around the world, over. He has come back here to this community where he started so long ago, not so far from here…Sir James has returned, but more importantly he has come back to this community that lifted him up and held him up for so many years that he called his Rock of Gibraltar…" Dr Godwin Friday, opposition leader and president of the New Democratic Party said in Bequia.
Friday told persons sitting both inside and outside of the church in Port Elizabeth that Sir James was a man he not only admired but would miss dearly.
He said that he has had many conversations with the founder of the NDP and when he heard of his passing, "I thought of all the things I wanted to talk to him about and will never get a chance to do so".
"Sir James was a great man. Everybody here said that but he was more than that. He really cared about people's success. If somebody had talent, he wanted to see that they got a chance to express it no matter their means," Friday said.
"So his community here in Bequia, he walked along the almond tree, he got advice from taxi drivers. He went to Paget Farm, he got advice from the fishermen. He went all over the place in his short pants and he talked to people and on the weekend or the next week, he would travel the world and go and speak to statesmen and he will come back here, moving from one area to another with the ease of somebody who was just comfortable in his skin and who just loved people and conversing," Friday said of the late former representative for the Grenadines.
To pay tribute to Mitchell, Friday presented a banner to the family on behalf of residents in the Paget Farm community.
The bright yellow banner featured Mitchell's face and in bold, black letters, "Rock of Gibraltar"; the name he adopted for Bequia.
And on the back of this banner, were a list of signatures of persons saying "thanks for everything" that the politician had done for the community.
"May they (the Mitchell family) take some comfort in knowing that the people of this community appreciated the work their father did and the sacrifices that they too made," Friday said as he handed the token over to Louise Mitchell, one of Sir James' four daughters.
Methodist Lay Preacher, Montgomery Maule delivered the eulogy in the Kingstown Methodist Church in which chronicled the political icon's career.
Regional prime ministers; Dr Keith Mitchell of Grenada and Mia Mottley of the Republic of Barbados journeyed to St Vincent and the Grenadines to deliver feature tributes in which they spoke of what Sir James meant to them, and his contributions to regional politics.
His four daughters, and some of his grandchildren also paid tribute to the family man that left several persons in the congregation either silently shedding tears or whispering "amen" and "true" in agreement to all that they said.