Posted on
Measures being put in place to protect road users on Arnos Vale bypass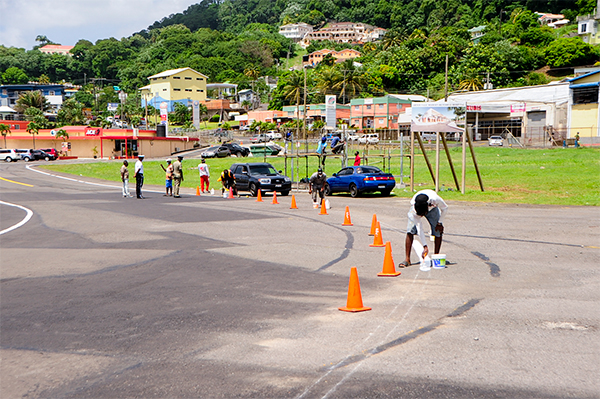 When the construction of the temporary school buildings at the decommissioned E.T. Joshua airstrip commenced, the wellbeing of pedestrians was a critical factor which needed immediate attention.
In preparation to accommodate the increase in vehicular traffic when the health authorities give the green light to resume face-to-face schooling, a widening of the carriageway between the airstrip and the junction at the Arnos Vale highway was undertaken. Vehicles have since taken to driving faster since the road has been widened to the dismay of motorists and pedestrians.
To ensure the safety of pedestrians, a footbridge is being constructed, spanning the width of the Arnos Vale river, to ensure that all who traverse the distance between Arnos Vale and the airstrip are protected.
Speaking to SEARCHLIGHT, Head of the Traffic Department of the Royal St. Vincent and the Grenadines Police Force (RSVGPF) Superintendent Kenneth John, said that measures will be put in place to safeguard all who use this portion of the roadway, as it is there to facilitate the smoother flow of traffic.
"We are going to place arrows on the road surface to guide motorists, along with speed limit signs, and the word slow will be painted at a number of spots," superintendent John said. "Pedestrian crossings will be placed, along with one or two officers stationed daily along that road."
Another issue has to do with the large container trucks being driven across the bridge, in violation of a sign posted at each end prohibiting the movement of vehicles in excess of four tons from crossing the bridge.
The top traffic officer said as far as he is aware no permission was given for containers to be placed on the airstrip, or for heavy duty trucks to drive across the bridge.
"What we have there at present is that there is no entry for trucks over four tons, but when everything is completed, it will be no entry for trucks…period." Superintendent John emphasised.
Speaking of the management of traffic in the general Arnos Vale area, John said that he is satisfied with the management of traffic along the stretch of road from the decommissioned E.T. Joshua airstrip to the junction with the by-pass road leading across the old airport.
"When the bypass is completed, there will be less traffic flowing along that portion of the road. The flow will be evenly distributed, and that is why drivers who are travelling to the Windward side, are encouraged to use the bypass; except for heavy trucks.
"Once the project is completed, and we have finished our road markings, it will be easy for motorists to understand, once they comply with the traffic signs," John added.