Posted on
Picketers plead not guilty to charges
Veteran calypsonian says court appearance a temporary inconvenience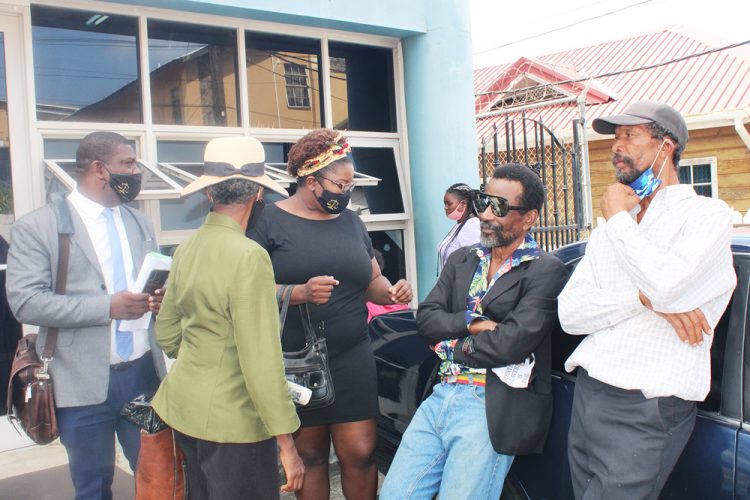 TWO MEN CHARGED with engaging in an illegal protest appeared in the Kingstown Magistrate's Court last Friday where they pleaded not guilty.
One of them is veteran picketer, calypsonian Robert "Patches" King, AKA 'Patches' Knights who expressed that he would repeat whatever 'they' think he did again without a second thought.
The 74-year-old King, who said he has been protesting since a teenager said that coming before the court was simply an inconvenience.
He joins a host of other known picketers who have been charged with the offences of, on August 5, 2021 in Kingstown being concerned with organising a public meeting/procession without notifying the Commissioner of the Police at least 24 hours before, and further that he knowingly took part in a public procession that was against the Public Order Act.
These charges are duplicated once more, but for another date: July 29.
The Rose Place resident is in the same position as Dorsetshire Hill resident John Mofford, who faces identical charges and entered a not guilty in court last Friday, September 10.
Disclosure to the defense of the documentation in the King matter is ordered for October 29, while the adjournment date given is January 11 bearing in mind that the court has a heavy backlog of cases.
Disclosure in the Mofford case is ordered by October 28, while the adjournment given is January 18, 2022.
Outside, King said his court appearance was just a "temporary inconvenience" as he should have been preparing a tribute to Winston 'SoSo' Lockhart.
"I'm a bit worried [because] I'm trying to create some music," he said, "…So I would have been doing that, but otherwise than that I feel no way. I'll repeat whatever they think that I did without a second thought," the entertainer emphasised.
"I'm not a criminal, I believe I haven't broken any law. If they want to revisit or they want to resurrect some old archaic colonial laws to control us, I'm quite aware of the intention, and I know enough of our history to know that the laws that they are quoting from to charge people… is archaic, it was…even before we had statehood," he added.
"…My teachers are people like Malcolm X, or Marcus Garvey so I am schooled in that way and I am very serious about my consciousness as a black man," he commented, pointing to protests in which he was involved in other countries.
"They're not gonna stop me from protesting in this country, and the charges that they have to me are bogus, they are frivolous, as Gonsalves like to say 'vexatious', ridiculous, ludicrous and all the other descriptive words you could find. I'm not 'fraid, they can't turn me off."
King, who also uses the microphone to express his views in song, has been expressing them on the protest lines for decades.
"You protest when there is a strong reason to protest, you don't protest because you like to protest. I protested back in the 70s and in the 80s because what I consider in our society, unfair, and unequal treatment to poor people like myself and it affected me the way things were done."
King said that he supports the opposition New Democratic Party but, "I am not a fanatic, I am not bought and sold. I got my own independent way of thinking."
The August 5 protest during which Prime Minister Dr Ralph Gonsalves was struck in his head and injured by an object as he walked back to the House of Assembly, and fires were set in the road adjacent to the court house building, has been described by some as riotous.
When asked how he feels about protests descending to violence, the Calypsonian said, "Protests, anywhere and any part of the world, there's always an escalation of what people like to call violence, especially initiated by the protectors of the status quo, you understand what I'm saying? The police."
Lawyers Kay Bacchus-Baptiste and Israel Bruce are representing all those who have been charged in connection with the protests.
"…You could imagine John Mofford is being charged with being concerned with organising a protest. John, I think the most John does is that whenever his sensibilities says to him that this is not right, he joins in with the event," Bruce queried as he spoke to the media outside the court precints after his clients' appearances.
"John Mofford is one of those persons who joined with the Unity Labour Party in the period just before the year 2000 because he was dissatisfied, he was not impressed with the performance of the NDP Government at that time, and he joined in protestation with them.
"…You notice nobody charged John in the year 2000 for being concerned, you notice nobody charged John in the year 2000 for participating?" Bruce questioned.
Bruce, a senator for the NDP said the charges are intended to intimidate people.
" That represents the nuts and bolts of these charges. How can we intimidate Vincentians so that they do not come out and protest against the injustices, the attacks on democracy, the lack of accountability and transparency in Government and so on? Those are the issues that are of concern to the people of St Vincent and the Grenadines, address those issues and stop bringing ordinary people to the court," Bruce argued.