Posted on
'Mama' Martin fears son is already dead at sea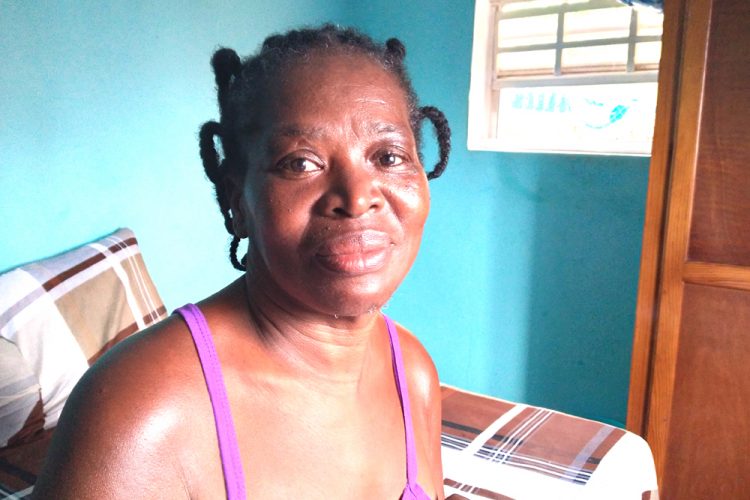 While she is holding on to some hope that her son will be found alive, Jillian 'Mama' Martin is almost certain that fisherman, Esley 'Black' Martin is already dead at sea.
Martin was the lone occupant of the boat, 'Comfort', which went missing from the Grenadine Island of Canouan, last Wednesday, June 16 – less than a week after three fishermen who had been missing at sea for 11 days, were returned home safely.
SEARCHLIGHT understands that the fisherman had neither a cell phone nor VHF radio, and therefore could not communicate with local Coastguard authorities or other nearby boats to seek help.
"Me sorry, me sorry if he dead. I dey here, me ah say, me cah just hear them say they find Esley? But like fish done eat he," Mama told SEARCHLIGHT on Tuesday evening from her home in Fairbaine.
Mama, the owner of Mama's Corner shop, was in tears as she spoke of her son's disappearance at sea.
She said he had gone to Canouan to live with his girlfriend, and had always had a love for fishing ever since he was a child.
The distraught mother, who spends most of her time indoors since suffering strokes within the last two years, said she was told that Martin left to go fishing last Wednesday from Canouan, even though the water was rough.
This, she said, was testament to his stubborn nature.
Mama also said that Martin knows how to swim, but suspects that if he has tried, he may have come across some difficulty because he is said to have been in deep waters and the sea was rough on the day he went fishing.
While she acknowledged that the fishermen who went missing recently were eventually found, she doesn't think that her 26-year-old son will have the same luck.
"Ah he alone and e boat na pram pram. Ah one little piece ah fishing boat he go out with, and he tek ee chance and go out in deep water and kill heself," the mother of four said. "Me hope them find him. If they find he dead body or whatsoever, we get to bury him because how me dey ya sick, if them na find um, ah give him ah praise. Me ah give him a praise because he need ah praise. Me can't do nothing more. Can't do a thing."
Coast Guard Lieutenant Commander, Deon Henry, told SEARCHLIGHT that the search and rescue mission for Martin is ongoing.
Up to press time, the Captain Hugh Mulzac Coastguard vessel was out at sea executing a surface search for the missing man.
The senior Coastguard official said that regional entities are also engaged in the search, including the Trinidad and Tobago Coastguard Service, which is conducting aerial searches for the missing vessel and its occupant.
"Searches will continue, both air and by boat," Henry said.
He revealed that most search and rescue missions executed by the Coastguard are for fishermen, who make it a habit of going out to sea without communication devices.
"We just want to encourage fishermen to practice safety. Make sure to walk with a communication device because with search and rescue, communication is key," Lieutenant Commander Henry said.
Henry explained that if the Coastguard is able to communicate with persons missing at sea, then it is extremely likely that they will be found quickly.
And if the Coastguard is unable to locate the individual but they have a radio, then the missing person will be able to communicate with boats within a two-mile radius to ask for assistance.