Posted on
102 year old man thanks God for a long life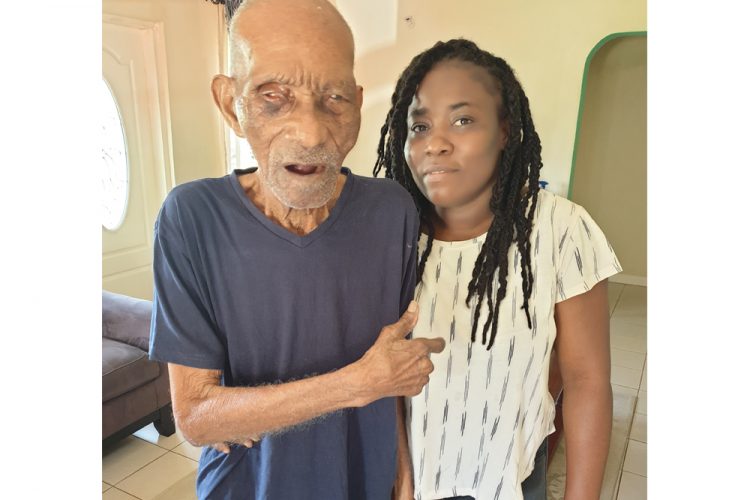 James Davis, a resident of Prospect who celebrated his 102nd birthday on May 22, 2021 says one of the keys to living a long life is taking care of your body.  
"I can't really give advice but I would say, try to take care of your body, treat the body very nice. Don't ill-treat the body, treat the body as you should," Davis told SEARCHLIGHT from his Prospect home on Thursday.  
"Eat and drink when you can get because when you can't get, you can't get," he said. 
Davis was born in Stubbs on May 22, 1919. He later moved from Stubbs to Diamond, then to Brighton, and eventually to Prospect where he is today.  
The father of nine who has outlived one of his children, says he feels great about his milestone.  
"I am alright, I'm quite alright," he said while in the company of his granddaughter Oneka Phillips.  
Asked about his work life, Davis said he did all sorts of jobs, from using the cutlass to making a living, to working as a labourer.  
"I use to do all sorts of work, all sorts of work. I work all about," he said while noting that he has no idea why he has lived so long, but he is thankful.  
"I can't tell you that," he said when asked about his recipe for long life, "you have to ask the Saviour in heaven about that."  
When asked about his diet growing up, he said he ate all types of food, but was never really fond of dasheen, tannia and rice.  
"When I growing up, long time food not like this time food, it was different food. Now, all kind of restaurant food now, and long time you could not get that," he commented.  
On the eruptions of La Soufriere, Davis did not say much but shared that he has visited the summit of the volcano on nine different occasions.  
Davis's wife Enid, died at the age of 55 on March 10th, 1978 and the elderly man said he never remarried.   
 
Davis does not suffer from hypertension nor diabetes but his granddaughter Oneka says his walking has slowed, his hearing is not as sharp as before and his eyes are "a bit weak." 
She said his diet consists of milk, porridge, biscuits, eggs and sausage, and soup, among other foods.  
"I feel good that the Lord in heaven give me the health and the strength to grant me long life to live until today, praise God for that," Davis concluded.