Posted on
Over 300 children benefit from Zero Hunger Fund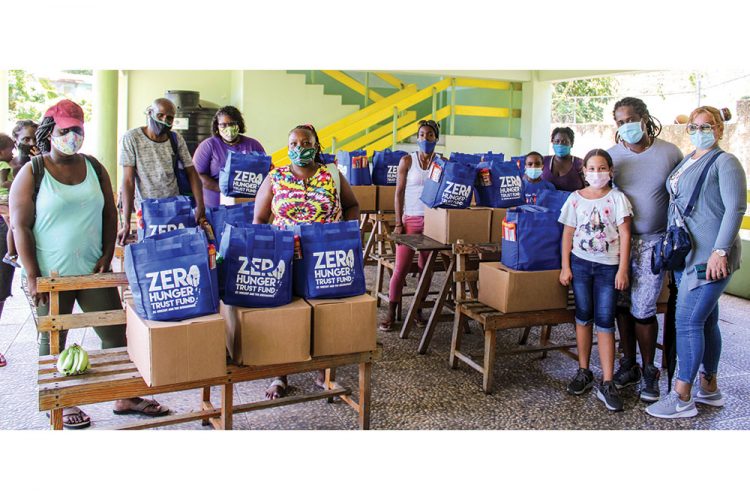 by Bria King
More than 300 children sponsored by the Zero Hunger Trust Fund received food parcels and cheques this week to ensure they are having a balanced diet when at home.
Through the Fund, a specific cohort of students in several schools across the country usually receive assistance to purchase books and uniforms for school. They are also given lunches and snacks while at school.
However, due to COVID-19, schools remained closed for the second term, which began in January.
The distribution of these parcels to 12 primary schools benefiting from the Fund is meant to support the students, who are attending classes virtually.
"It's a good initiative…a very good programme and it's really helping the children," Angella Kydd Roberts, a teacher at the Fairhall Government School told SEARCHLIGHT on Tuesday.
The primary school was one of several that began distributing parcels this week.
A total of 48 fourth grade students at this school received parcels, which contained various food items including crackers, rice, flour, pasta, peas, milk, fruits, vegetables, various meat products and some tinned goods.
Roberts, who is also the coordinator for the feeding programme commented on Tuesday's activity, noting that the parents were very receptive to the initiative and have been coming willingly to receive the boxes.
She added that students make use of the programme because they receive their books and are always in attendance at school.
"They are glad to come and be here because they know something is here for them," the educator said.
A representative from the Zero Hunger Trust Fund told SEARCHLIGHT on Tuesday that 349 students will benefit from the distribution – 291 will receive food parcels while 58 will receive cheques.
With the help of local grocery delivery service, E-hub SVG, parcels were also distributed at the Gomea Methodist and Mayreau Government schools on Tuesday, while students of the Fancy Government and Sandy Bay Government schools received cheques.
Food parcels were also distributed to Calliaqua Anglican School and the Lauders Government School on Wednesday.
The representative said distribution to the other specific cohorts at the remaining schools on the Leeward side of St Vincent will continue next week.
The Zero Hunger Trust Fund was established in 2016 with the aim of financing the achievement of Sustainable Development Goal 2; end hunger, achieve food security and improve nutrition and promote sustainable agriculture.
In addition to supporting specific cohorts of students in schools across the country, the Fund also supports school feeding programmes, giving all students who attend school free access to meals.
Support is also provided to vulnerable and elderly persons in the form of vouchers, which can be redeemed at participating supermarkets.