Posted on
Nigerian woman acquitted of theft against former employer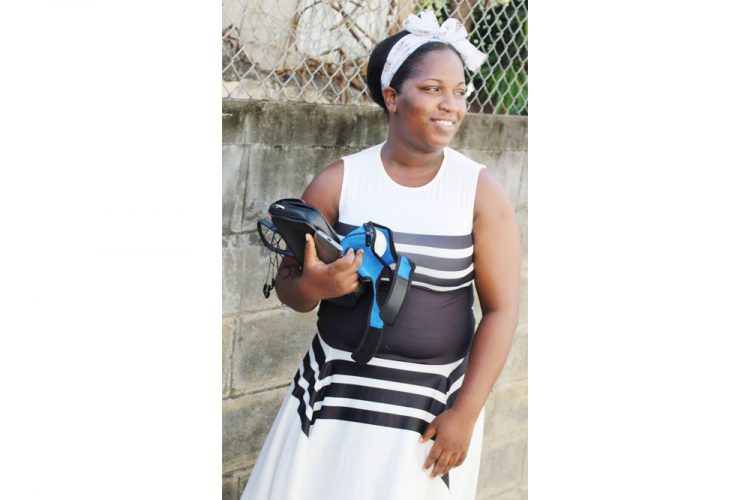 by Katherine Renton
She was called a thief, cursed by passers-by, and her dreams occupied with images of prison, but last Friday former Star Garage employee Eunice Dowers tearfully thanked God that she no longer faces 55 criminal charges against her former employer.
"…Sometimes I will even see myself dreaming that I'm in prison, the psychological effect was too hard, very hard on me, very, very…" the 27-year-old Nigerian/Vincentian commented outside of the Serious Offences Court (SOC) on Friday, March 5.
The young woman had walked out of the courtroom moments before, and seemingly overcome with emotion, was crying.
Her tears were joy and relief that Chief Magistrate Rechanne Browne had upheld a no case submission made by her lawyer, Grant Connell.
In a complete knockout, Dowers no longer contends with 17 counts of theft, 14 counts of fraud, 14 counts related to taking possession of a credit card, and 10 counts of money laundering, said to have been committed between August 2018 and February 2019, when she was still working for Star Garage.
Dowers had been accused of the unauthorized use of the credit card and cheque book of Bertille 'Silky' DaSilva, Managing Director of Star Garage Ltd.
In the end, an issue that seemed key for some of these charges was that they refer to a credit card belonging to Bertille 'Silky' DaSilva of Indian Bay, and a cheque book belonging to same.
However, the evidence provided by the prosecution was a cheque book and credit card statements not related to DaSilva, but Star Garage Ltd.
Further, charges related to Dowers allegedly taking possession of the credit card, and defrauding the First Caribbean International Bank, did not specify the subsection under the legislation, and this was considered material.
Last Friday, the 27-year-old noted "It's not easy to be a Nigerian and you know the thing about Nigerians, 'Oh they are criminals'. I know that I'm not perfect yes, I never denied using that card for a day… I never, but I know he gave it to me, and that was the reason I used it, but thank God for everything that's just it."
Dowers' defence lawyer had questioned 'Silky' extensively during the trial about an alleged intimate relationship with his client, during which he(DaSilva) financed her on several occasions.
Outside the court, Dowers said she just wanted to thank God, and noted that her mother and other persons had been praying for her.
Mothers would understand, she commented, "…Your girl child facing 55 oh! 55…they didn't even say okay let's try one and see how it is, 55," she noted emotionally, "…is like if my world was coming to an end."
However, during the ordeal, some strangers showed her gestures of kindness.
"…I also want to thank Vincentians who see me on the road and hug me," and tell her to stop crying, she said, "…Some people I don't even know. Some parents I don't even know. They will see me on the road and hug me," she revealed, and assure her that everything would be okay.
The young woman does not have any hard feelings towards her former employer or colleagues, for reporting or testifying against her.
"Why would I be upset with them, I wouldn't be upset, why would I be? Everything work out for good, it's actually… for God to see if I'm strong and I'm strong," so why would she be upset with Star Garage, she reasoned. Rather, she concluded that it was the devil's work.
Dowers was first arrested at the Argyle International Airport (AIA) and charged in February 2019. At the time she was categorized as a flight risk and bail was initially denied to her.
However, the 27-year-old indicates she had no plans to leave this country, and that she was planning to leave for work for six months when she was arrested. She said that 'Silky' knew this, and so did everyone in Star Garage, "because I told him (DaSilva) before that Star Garage is not paying me well," and given the opportunity she would leave and return.
"I wasn't running away, I was actually going to come back because I love St Vincent," she stated.