Posted on
More vaccines arrive in SVG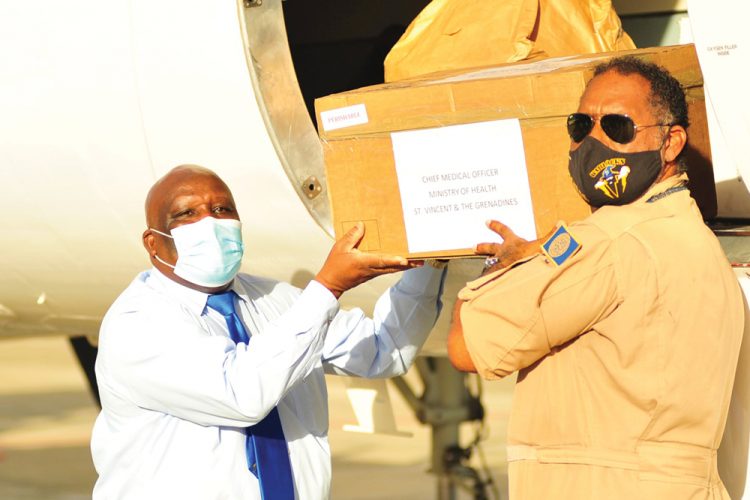 St Vincent and the Grenadines yesterday received 5000 doses of the AstraZeneca COVID-19 vaccine which will be used primarily to vaccinate the nation's frontline workers.
The vaccines are enough to vaccinate 2500 persons and arrived from Dominica, which received 70,000 doses from India, and is among countries in the region that have already received large quantities of the vaccine.
"Dominica has received early and so too Barbados and what is happening is that, the Prime Minister of Dominica told me that in keeping within our resolve in the Caribbean community, that whatever little we have, we will share with one another," Prime Minister Dr Ralph Gonsalves said during a virtual press conference yesterday.
Gonsalves said St Kitts & Nevis and Antigua & Barbuda will also receive vaccines from Dominica, while Barbados, which received 100,000 doses from India, intends to send some to Guyana, Trinidad, Grenada and St Lucia.
As part of the continued fight against the coronavirus pandemic, countries in the region have been mobilising to acquire the various versions of the vaccine.
SVG's prime minister said that Nahrendra Modi, India's Prime Minister has approved the donation of 40,000 Covishield (AstraZeneca) vaccines to SVG, as a gesture of friendship and solidarity in the fight against COVID-19.
While other countries are set to receive donations from India as well, Gonsalves noted that SVG will also share with any other country experiencing shortfalls in the acquisition of the vaccine.
The Ministry of Health is also expected to make a statement on its website stating that the Russian Sputnik V COVID-19 vaccine has been authorised in this country and its use is approved under the Emergency Use Authorisation procedure.
SVG joins 24 other countries who have also approved the Sputnik V vaccine by applying this emergency authorisation procedure.
Gonsalves highlighted that the Russian developed injection has been identified as having an efficacy of almost 92 per cent, as confirmed by Lancet, a reputable medical journal in the United Kingdom.
This country expects to receive doses of the Sputnik vaccine for 3000 people soon, and Prime Minister Gonsalves said he has written to acquire doses in addition to these.
Plans are also underway to acquire vaccines through the Mustique Charitable Trust and the COVAX facility.
Levi Walker, this country's chief pharmacist said this country will spend EC$400,000 in preparation to properly store all versions of the COVID-19 vaccines.
These funds will be used to purchase freezers and necessary accessories to store the vaccines at varying temperatures.
Walker noted that there are at least five vaccines currently in the advanced stage of authorisation and that they require one of three temperature storage requirements.
The AstraZeneca, Johnson & Johnson and the Sputnik V dry combinations require storage of between two and eight degrees Celsius, while the Moderna and Sputnik V liquid combinations require storage from around -18 to -20 degrees Celsius.
The Pfizer vaccines require temperatures as low as -70 degrees Celsius.
According to the chief pharmacist, SVG currently has the capacity to store vaccines requiring storage temperature of two to eight degrees Celsius.
He said the intention is to buy additional freezers to further enhance this storage capacity.
"Concerning the storage temperature of -18 to -20, about two weeks ago, we installed a dedicated freezer at the Levi Latham Health Centre. This is where we have been keeping the Sputnik that we received…to add to this particular storage requirement, we also have and expect two large volume medical freezers that can provide temperatures as low as -40," Walker said.
He added that the country expects to procure two "ultracool cryogenic freezers" capable of providing cooling temperatures as low as -90 degrees, to address the storage requirements of the Pfizer vaccine.
"Essentially, we have made the provisions to handle all of the COVID-19 vaccines, regardless of their storage requirements…considering that it is very likely that we would receive shipments of several, if not all of these vaccines," Walker said.