Posted on
Diamond athletic track being abused by the public
Track Abuse !!!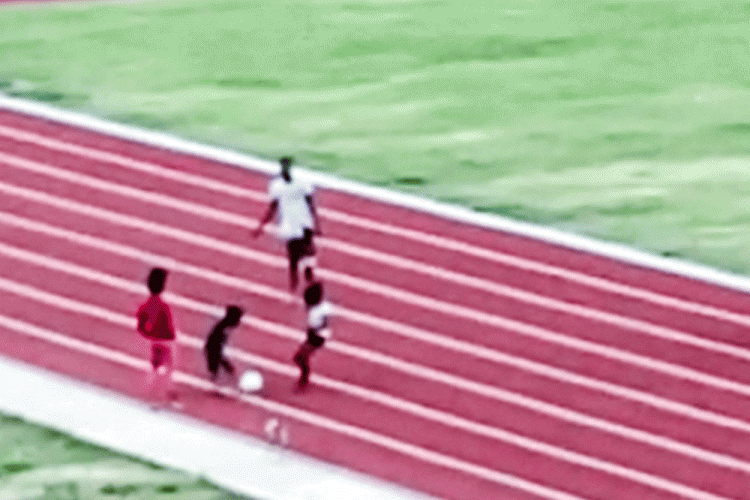 The delay in the appointment of a management committee, as well as the provision of proper security at the newly Diamond Track Facility, has caused persons to adopt a do-as-you-like affair.
A game of football, the presence of animal droppings, a bath in the Steeplechase pit or dirt being thrown on the synthetic surface, are some of the happenings taking place at the facility.
Some of these acts have been captured by persons visiting the site, with the many videos taken of the inappropriate activities making the rounds.
Many persons who have seen the videos have expressed disgust at the lax attitude taken by authorities with regards to the security of the facility.
Two months ago, president of Team Athletics SVG Keith Joseph had called on the relevant authorities to speedily put a management team in place.
In an article that appeared on Teamathleticsvg.com, the website of the national track and field body, Team Athletics SVG, Joseph wrote: "there is an urgent need for government to put in place an appropriate management structure and personnel… This is critical… Personnel have to be trained, not merely named… This has to be done now, not later".
The Diamond Track Facility was officially opened on November 4, 2020, ten months after the official sod turning ceremony was held. The opening entailed a brief ceremony and warm-up events.
The facility had its first official meet on December 12 last year, when Team Athletics SVG hosted the pre-season relays.
This phase of the facility, which forms part of the National Stadium project, has been put at the cost of EC$4 million.
Apart from the 400m synthetic track, there are provisions for field events, such as the discus, shot putt, javelin, high jump, long jump, triple jump, steeple chase, hammer throw and pole vault. However, some of these field events areas are incomplete.
In place though to complement the usable facilities are bleachers, which have a capacity to seat 1,700 spectators. Also in place would be a full-sized football field, but which still has work to be done.
Meanwhile, phase two work includes the erection of dressing and wash rooms, a grass bank or mound, as well as a parking lot.