Posted on
Luzette King breaches Immigration and Customs
Political activist bolts out of AIA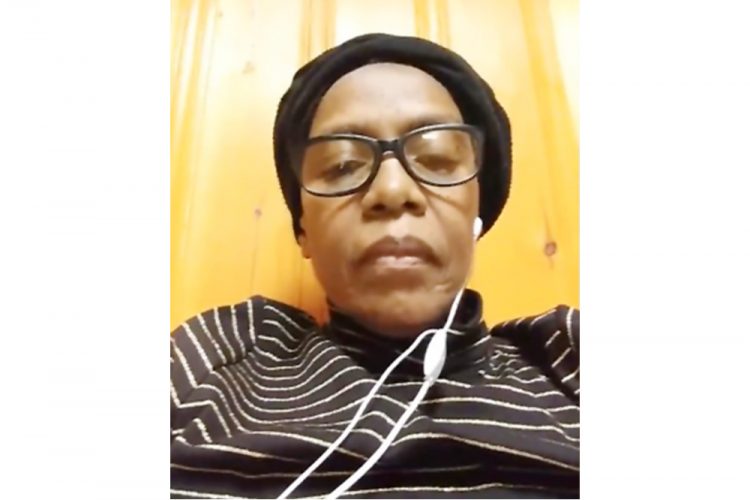 Political activist Luzette King was able to bolt out of the Argyle International Airport (AIA) on Saturday without clearing immigration or customs, causing Prime Minister Dr Ralph Gonsalves to question the security arrangements at that facility.
On Saturday, January 30, King, a Vincentian with American citizenship, arrived at the AIA without a confirmed booking at a COVID-19 approved accommodation to spend her mandatory 14-day quarantine.
On being told she would have to return to the United States (US) if she did not stay at an approved accommodation, King ran from the nurses' room located in the terminal building, out to the airport parking lot where she was apprehended by a customs officer and taken back to the immigration department.
"…They offered me two choices, one, I was to book a 14-day quarantine there and then, or go back on the plane, and yes, I ran to hell out, because I thought my taxi would have been there and I would have gone in that taxi.
"I would not have made him drive away, but I would have give them hell to get me out of that vehicle…that's why I ran out…they manhandled me and brought me in and the customs officer said we are going to determine what happens to you here," King recalled during a Facebook Live broadcast on Sunday.
She was sent back to the US onboard the American Airline (AA) aircraft that had brought her from Miami to SVG.
During her broadcast on Sunday, King said that when she arrived at the AIA, she waited in a line after which she went to the nurse who was doing COVID-19 screening.
She said she handed the nurse her pre-arrival form and COVID-19 negative test, after which she was asked which hotel she was going to.
"I said none, because I was going home where there are two bedrooms and I know what to do," King, a registered nurse explained.
She said she was hoping she would have been charged and taken to court, but that did not happen and she was sent back to the US.
"I refused to book a 14-day quarantine but everything else I complied, and at no time did anybody offer to swab me or take my temperature … "I wanted to go home and they asked for a letter of exemption, but I did not know I could have received that.
"There is no mention of an exemption, but they said I can't have it now for now," she explained while adding that she asked for a doctor but she was told that no doctor was at the airport.
She said she is a Vincentian by naturalization having been born in Curacao to Vincentian parents, but lost her Vincentian passport a few years ago. She travelled to SVG on an American passport.
King believes she should not have been thrown out of the country without someone examining her for a fever or other symptoms of COVID-19.
"… I complied with everything they asked to do except book a 14-day…I did not have US$1000 on me…," King stressed while noting that she is currently awaiting an exemption to travel back to SVG as she does not have the money to pay for quarantine. "I called the American Airlines and I alerted them that they might be involved, inadvertently, in a COVID racketeering scheme as exists in SVG," King said while noting that AA did not make a mistake when they allowed her to board the flight, and she did not expect to be sent back to the US.
"…It caught me by surprise…," she said.
Speaking on WE FM's Issues at Hand program on Sunday, the Prime Minister, who is also the minister of national security said that the set-up at the airport that allowed King to run away from the authorities shows the importance of leadership.
He said the person who on Saturday, was supposed to be in charge of the police at the airport, was not there.
"The person who was supposed to be holding the fort there wasn't there," the Prime Minister said, while adding that he asked Commissioner of Police (COP) Colin John about the incident.
"I wanted to know what are the security arrangements that were there for somebody to have left the health section and didn't go through immigration, walk past immigration, walk past the customs…well I'm not so concerned about the individual, I'm concerned about the security system," Gonsalves said.
He said he is not familiar with US law on a matter like this but he reasonably expects that if that had happened in the US, some sort of law would have been broken.
"I know what the law of this land said. I don't want to pronounce on the factual case, the public servants and so will deal with that, but I want to know the arrangements that allowed that conduct," he said.
"I look at where my responsibility is. Individual breaches are not so much my particular concern. That is the concern of other people," Gonsalves said.