Posted on
Barrouallie funeral breached Covid-19 protocols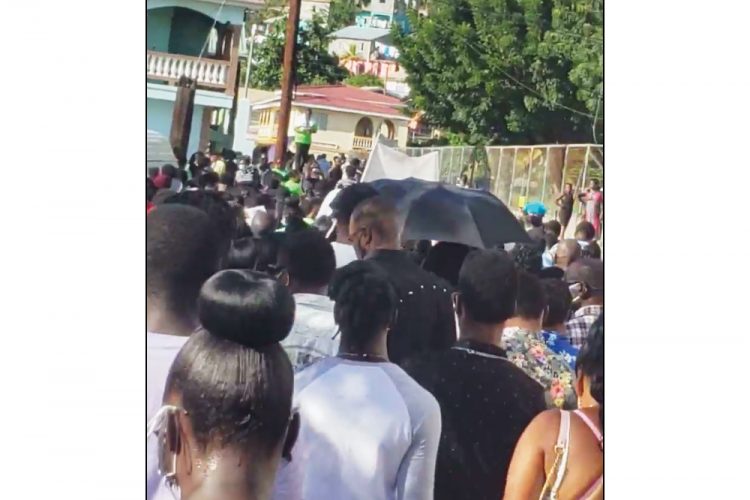 A funeral procession in Barrouallie last Saturday has been described as a "major hiccup" in the enforcement of Covid-19 protocols here.
Last week, during an address to the nation, Prime Minister Dr Ralph Gonsalves announced that Friday January 22 and Monday, January 25 would be public holidays for public health reasons and asked that persons remain at home for the entire weekend in an effort to stem the increase in Covid-19 cases here.
But over the weekend, several persons took to social media to comment about the flaunting of the protocols, mainly at neighbourhood bars and at funerals and church services; and failure by the authorities to enforce them.
The protocols for mass gatherings limit indoor gatherings to 10 persons, and 20 for outdoor gatherings. Amplified music is banned.
One person who complained about the failure to enforce the protocols was videographer Regis Splectron Williams, who on Facebook, expressed his disgust at the breaching of the protocols by funeral goers over the weekend.
In the Sunday January 24 post, Williams disclosed that a member of his camera crew who livestreamed a funeral service in Barrouallie on Saturday, asked that they not be sent back to that community to cover funerals in the future.
He explained that on reviewing the footage, there was a rural carnival size crowd in attendance, with most of the persons coming from outside the community of Barrouallie and not adhering to the protocols.
"The police barracks, they right there, how come the police ain't get up off their royals to come ensure this gathering is complying with the Covid rules?" Williams questioned while revealing that the church where the funeral took place had over 75 persons inside.
"When the funeral come out the church, all bacchanal break loose. Ah mean carnival, people jumping to sound of steel band.
"Now that's not the bad thing, if people come out to a funeral and jump to local steel band music, but is when half of them don't have on no mask and half have on and the half that have on mask, half of those people wear the mask like a pampers under their chins…," Williams said.
Williams opined that it makes no sense ordering van drivers to carry fewer passengers, then allowing more than 300 persons to congregate in a mass gathering "disguised as a funeral".
Addressing the issue of the funeral on Monday during a call to Star Radio, Prime Minister Gonsalves said he had discussed what transpired at the funeral with Commissioner of Police (COP) Colin John.
He said Covid-19 protocols need to be strictly observed at funeral processions, including the ban on amplified music.
According to Gonsalves, steel bands and other instruments used during some of these processions could also be considered amplified music.
He said the Public Order Act or the Public Health Act may be used by police to limit these processions and that should have been done in the case of the Barrouallie funeral, without being heavy handed.
"The police should have acted not in a way, not to lock up anybody, but simply to say this should not be done…"
Gonsalves said while adding that he does not want police going into church and locking up persons as has been done in other countries.
"People may call for ban on these things and my response is always in this way, we have to deal with pandemics for the foreseeable future and we have to live with Covid even when the vaccine comes along."
He said he is confident that persons would listen to the police if they tell them not to congregate in this manner.
"I told the Commissioner to look and see if there was not a lack of police leadership on the ground," said Gonsalves, who is also the minister of national security.
He noted also that the police should have allowed only the family of the dead person to go to the cemetery and he is hoping that another situation like this does not arise as he wants the law to be "a shield and not a sword."
On Tuesday, a nurse attached to the Milton Cato Memorial Hospital (MCMH), told SEARCHLIGHT that she observed behavior similar to what transpired in Barrouallie, during a funeral procession on Monday in Kingstown.
Head of the Police Public Relations Department Inspector Junior Simmons, speaking on NBC Radio on Monday said persons should adhere to the protocols to stop the spread of the coronavirus.
He said the person leading a funeral or wedding inside a church should appeal to the congregation to limit themselves to 10 persons and if persons are non-compliant, the police should be alerted.
"The police would intercede and do what they have to do. Moreover, the officiating pastor or bishop or deacon, they can refuse to carry on the service. They have that prerogative to do," ASP Simmons said, adding that everyone must play their part.
Simmons said the police do not want to use law enforcement as the first resort in these cases so they are hoping that persons who have not been complying with the protocols begin to do so.