Posted on
We have a bundle of restrictions – PM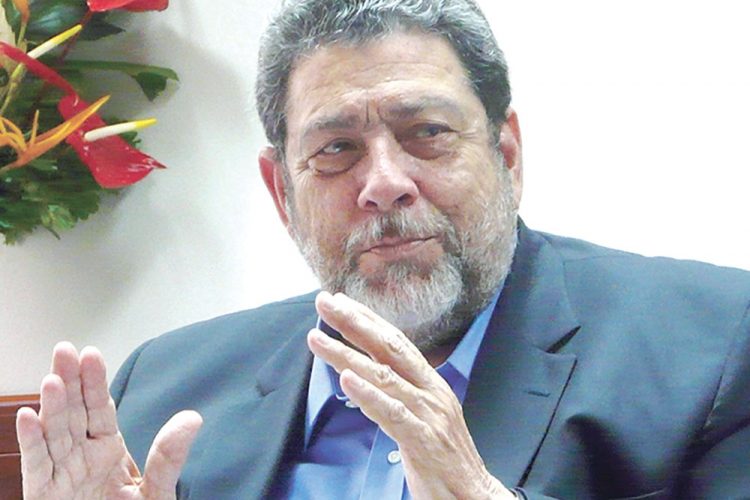 The Government has no intention of locking down the country, calling a state of emergency or making it mandatory that masks be worn as St Vincent and the Grenadines (SVG) battles a spike in the number of Covid-19 cases here.
Rather, restrictions are in place and recommendations have been made.
"In relation to lockdown, there are persons who say that we must use what they call 'draconian Chinese methods', I've heard that expression, 'lock it down tight like a drum'," the Prime Minister Dr Ralph Gonsalves stated on Wednesday, January 13.
"Now, I don't know where… in the Caribbean that that has worked," he noted.
He was speaking at a virtual press conference hosted by the Ministry of Health, in the midst of an 'uptick' in Covid-19 cases. The number of persons infected with the respiratory virus has continued to climb, jumping by double figures in multiple daily reports. Up to press time, there were 234 active cases.
SVG has set restrictions, the Prime Minister stated, including quarantine protocols for 14 days, a ban on amplified music, restrictions on minibuses and the decision to conduct distance learning.
"We have a bundle of restrictions!… but we don't intend to have a state of emergency so that you can stop a man in Clare Valley throwing his seine at four in the morning," Gonsalves stated, or a farmer going to their land to change their cattle.
"…It's easy to say lockdown, but there are certain consequences of lockdown which don't necessarily solve the problem when you open up," the Prime Minister continued.
He also stated, "You may place restrictions…but if you lock it down, you're locking down a civilization and the question is this – can't you achieve the requisite controls on this pandemic while at the same time, keep activity going."
Gonsalves made reference to a suggestion by a teacher that the country be locked down.
"I say for how long?, they say, 'two, three months nuh?', I say and how you going get your salary?" the Prime Minister recalled, "And then there was a pause."
"…Apparently they think that Government has a pot of money which you can just, you can just print money. There has to be activity (in society)!," he stated.
"That's why I say this is an interlocking bundle of issues of health, economic, social and security, – lives, living, production, in all their manifold dimensions," he concluded.
The Prime Minister also explained that in the fight against Covid-19, the Government has adopted a "boots on the ground epidemiology, testing, contact tracing, and public buy-in… getting a consensus."
"…For instance we have not done, like some other countries, to make the wearing of masks mandatory, but it is highly recommended," he stated. The Prime Minister posited that if one goes to Kingstown during these times of an 'uptick' they would see 90 per cent of the persons wearing a mask.
"We don't think that legislating to penalize the wearing of masks is going to either help law or law enforcement or the pandemic, help us in fighting the pandemic," he said.
Continuing, "We get the public buy-in and we are a disciplined people overwhelmingly and people listen to what is happening and they are taking sound advice and acting accordingly and we have seen this from the very beginning."