Posted on
'Major' Leacock hospitalised after being injured in fall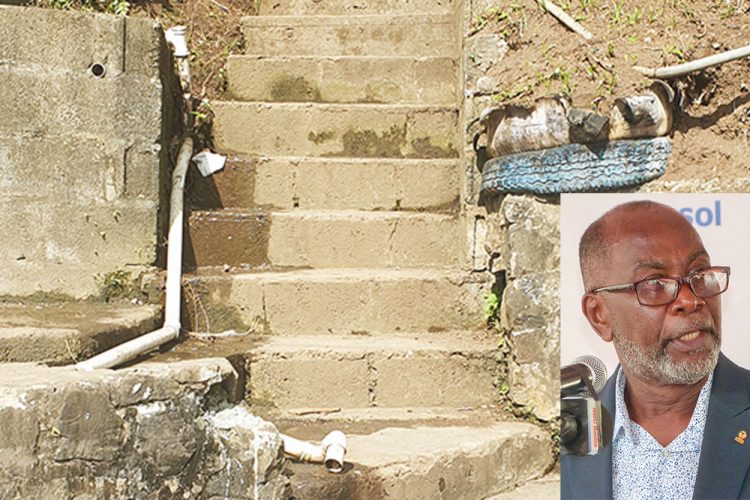 by Lyf Compton
Parliamentary representative for Central Kingstown Major St Clair Leacock is resting comfortably at home after a fall in his constituency on Sunday.
"It's not a bi-election as yet. Don't call a bi-election," Leacock joked to SEARCHLIGHT via telephone on Monday, one day after he was knocked down a flight of steps outside the Phillips's residence in Hollywood, Redemption Sharpes.
Following the fall of the New Democratic Party (NDP) vice-president, rumors began circulating that he had been deliberately pushed during an argument about politics by a supporter of the governing Unity Labour Party (ULP).
However, those rumors have been dismissed both by Leacock and his long-time friend and political supporter Astra "Carmen" Martindale.
On Monday, Martindale explained to SEARCHLIGHT that both she and Leacock had attended the funeral of Emily Phillips after which they went back to the Phillips residence in Hollywood for the post-funeral reception.
Martindale said she went to get drinks for herself and Leacock while the politician went to get food.
While Leacock was going down the steps, located at the side of the house, a man accidentally knocked over the veteran politician.
"When I heard he fell I dropped the drinks and everything," Martindale said while adding, " I don't think it was on purpose and I don't think it was political."
She said Leacock rolled down about 10 steps, fell into the street and his head went under a parked car.
The Opposition parliamentarian was taken to the Milton Cato Memorial Hospital (MCMH) by one Junior Francis where he was treated and released at about 3 am yesterday.
Leacock, 69, said he received injuries to his right shoulder, back, groin, and has bruises below his right elbow and damage to his right foot and left palm. He said he is in pain and will need therapy before he is able to properly get back on his feet.
"Nobody would come to Sharpes to damage the Major. There was no argument or anything like some people are saying. I think it was an accident," Leacock said while also noting that he is pleased with the care he received at the MCMH.
Leacock is also calling on persons who may be thinking of retaliation to not entertain the idea as he thinks it was a genuine accident.
The person who bumped into Leacock is said to have been intoxicated and was fleeing someone whom he had provoked.
"I will like to caution persons. There should be no retaliation. I don't want that. We don't need this sort of thing, there is no time for that," Leacock stated while adding that it is regrettable and unfortunate that he was hurt.
"We need to focus on other things," he said and added that he is hoping to get back on his feet as soon as possible to continue the work of the people.
Leacock is now serving his third term as parliamentary representative for Central Kingstown, having been returned by a large margin in the November 2020 general elections.