Posted on
Tensions rise as volcano threat level remains high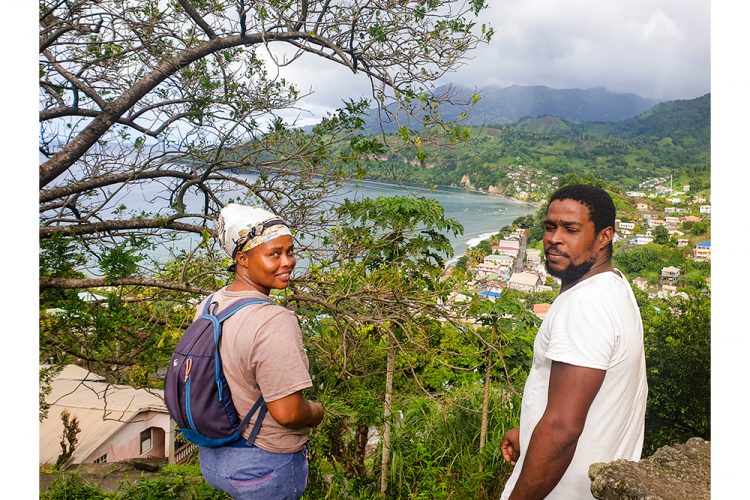 by Lyf Compton
Some persons have lived in the shadow of La Soufriere volcano for so long, that they have no fear of the monster that on May 6, 1902 killed 1,690 persons.
On Tuesday December 29, the National Emergency Management Organization (NEMO) raised the Volcano Hazard Alert Level at La Soufriere from yellow to orange because of effusive eruptions taking place in the crater of the 4,048 ft. volcano.
In 1979, when La Soufriere last erupted, Euton Slack stood on a beach in his hometown of Chateaubelair and saw fire spewing from the mountain peak.
Slack, now 78, says he will not leave his home if the volcano moves from erupting effusively to erupting explosively.
"Me ain't moving, nah, me ain't moving," Slack told SEARCHLIGHT on Monday while standing close to the same beach he looked at the eruption from in 1979.
"Me nah have no problem about it. I'm not frighten, because me trust God," Slack, expected to celebrate his 79th birthday on September 15, further stated.
The elderly man said that when the volcano erupted in 1979, he was in Chateaubelair and saw "natural fire".
"I wasn't moving. I had a brethren and I tell him I ain't going anywhere and he tell me his wife going Layou, so … leh we go up dey. But most of my time I spend it right here," Slack boasted.
"I saw the fire coming out of it and we use to go on a hill up dey and see it," he said, pointing.
"I never have no problem seeing it…I come back here (in 1979) before people come back, and them times I wasn't a saved persons and I save now," Slack stated.
He said in 1979 when the volcano erupted, he and his friend went to a mountain peak to get a closer look and he would experience a sensation in his leg whenever the volcano exploded.
Slack said his friend told him that the knife in his pocket was having a magnetic reaction to the force of the eruption and it was the pull of the knife that he was feeling on his leg.
Another man, a farmer of Spring Village, who said he would not give his name because he does not trust the media, still commented that he was 23 years old when the volcano last erupted and he is not fearful of another eruption.
"I know the more it erupt (effusively), the weaker it become," the farmer of 40 years said while standing in Gordon Yard.
A Petit Bordel man, speaking on the condition of anonymity, said he too will not leave his home if La Soufriere begins erupting explosively.
SEARCHLIGHT met him on a hill just outside Chateaubelair.
"Me go like fuh experience, fuh see, you know. Me live in a downstairs. Me nah have nowhere to run go. I would like to see," he repeated while adding that he is not bothered about the orange alert.
On the other hand, many other residents are apprehensive. On such person is Veneshia Harry who was standing on the same hill just outside Chateaubelair with the Petit Bordel man who refused to give his name.
Looking at the volcano, Harry, of Petit Bordel, told SEARCHLIGHT, "anyhow they say evacuation, me done pack all thing…"
She said that last week when persons started to pay attention to La Soufriere, she was panicky.
"In the evening [of December 29], when we got a message saying orange [alert] and we had to make preparation, I was frightened then.
"I have three children, two young adults and I have a four-year-old. I'm not so worried about the two others because they can run for themselves, but the little four-year-old, I have to look out for him.
"If it was me alone, no problem, because you just dash some clothes in a bag and then go about your business, but you have a little four-year-old and you have to try and explain things to him," Harry explained.
"If it erupts, where I usually leave my home to go, they have to clear out too. I would go by my sister in Owia or his grandmother in Georgetown, but they in the red zone, so they have to clear out too. So me just want to come out of the areas that will be affected," Harry stressed.
She said she has been smelling sulphur and on her way to Richmond on Monday morning her eyes were burning.
"I don't know if is that causing my eyes to burn, but my eyes were just burning," Harry stressed while noting that the smell of sulphur is strong at Richmond Bay and Petit Bordel.
Another concerned woman is Dawn Spring of Fitz Hughes.
"All now me scared and always dey pon alert.
"Me ah go anywhere Government get shelter to rescue me. Me nah have no other place," Spring said while adding that in 1979, when Soufriere blew its top, she was living in Kingstown but heard many stories.
"I smelling sulphur. It does kill me off from time to time. Especially when the wind blow you does get a strong smell," Spring said.
The volcano is being closely monitored by a team of scientists headed by geologist Professor Dr Richard Robertson of the Seismic Research Centre, University of the West Indies (UWI-SRC) St Augustine Campus.
Robertson noted that an effusive eruption means that magma (molten rock) is coming out of the volcano quietly. He also stated that this molten rock is forming a new dome in the crater of the volcano.
The mass growing in the crater is similar to the one that grew there during the 1971/1972 eruptions.
Spring confessed that she is so fearful that the dome growing in the crater will explode that she hasn't been sleeping.
She added that she will have to evacuate with four other family members if the alert is raised.
"Me done have a bag with some tin stuff. Anything me got to scrape, me going scrape. Plenty people saying them not leaving," she added.
Spring went on, "You nah must frighten? you watch a big, big thing like that dey, you have to run from that. Watch how it black and ah smoke. You think that dey easy, how it dey, dey."
The anxious woman also noted that many persons are saying they are not leaving if the volcano blows and as far as she is concerned,some of them have sinister intentions.
"Them accustomed to loot out people house. When people run the last time in 1979, they thief them out, plenty break shop and all thing. That's people's fear," Spring lamented.
Natachie Spring, also of Fitz Hughes, is frightened.
"If that blow…I ready to leave. I would not stay. I heard about eruptions, but never experience it. It scary and make me can't sleep. I real, real frighten… ah two bag me done pack," Spring offered.
Rosemarie "Rosie" Lewis of Clare Valley who works in Fitz Hughes taking care of an elderly woman was at home in 1979 when the volcano erupted. She was 10 years old.
"I get scared because if I dey Clare Valley, I know I safe. But here, I have to fight up to evacuate other people.
"I pray God that nothing ain't really happen because I can't take going in a shelter. Make it worse, corona, and that will be too much pressure pon the heart," Lewis said.
Yesterday, NEMO said the alert level remains at orange.
"The volcano continues to exude magma on the surface and steam can still be observed from the Belmont Observatory. Persons living in areas close to the volcano should expect strong sulphur smells for several days to weeks, depending on changes in wind direction," a NEMO release said.