Posted on
Samuel flips the switch on his Christmas lights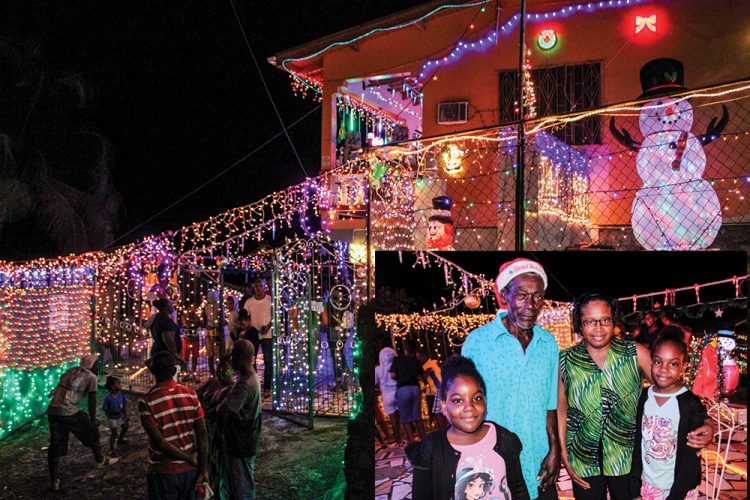 by Katherine Renton
Across the country, houses are lighting up with colourful Christmas lights in an effort to bring cheer to a hard year, but 80-year-old Jimmy Samuel is on a whole other level in the "lighting up" game.
Samuel, who has 16 years' experience with lighting up, and has won the Nine Mornings Lighting Up competition several times – has once again flipped the switch on his lights this Tuesday, December 15.
Like a moth to the flame, once the lights were on, the children in the neighbourhood moved towards them like it was a beacon. A child could be heard saying "pretty lights! pretty lights!" as she excitedly toddled in front of her family, leading the way to the house. Every time he lights up, Samuel has to spend a pretty penny on new lights and electricity. The icicles, colourful hanging decorations, massive snowmen, and a ladder climbing santa are just a few of the new attractions.
This year's theme is quite appropriately centred around Covid-19, and people entering the premises had to sanitize their hands. Further there was a sanitization station set up inside, around which there were numerous Christmas themed posters reading ways of preventing the spread of Covid-19, showing Santa Claus social distancing, and assuring "Amidst Covid Christ is King".
This Christmas season there has been debate in some circles about whether Santa Claus would have to quarantine when he flies in. In Samuel's display, he has a scene in which a nurse and doctor are taking care of two Santas in Quarantine. The children crowded around to see and hear the Santa snoring away under the watchful care of the medical staff.
Samuel, a Roman Catholic, also has a section with lit up nativity scenes starring the baby Jesus, and illuminated pictures of Jesus and Mary.
"It's really fantastic, Jimmy has done a great job. So beautiful. So amazing. So many different sections to it. It's really gorgeous," one spectator, Margaret Gould concluded.
Although it was the third time she had come to the event she commented, "each time it's better. This time is the best I've seen it."
She took a number of videos to send to her children.
"When I'm here and I'm here for Christmas, I come to see Jimmy's lights because it's like… special. You must come to see Jimmy's lights or else Christmas has not started. Once you've seen the lights Christmas has started," Gould explained.
Samuel, and his dedicated helper Ashanti Ackie, even after their five weeks of non-stop decorating and preparation, were still busy bees at the helm of the operation on Tuesday.
Samuel, an easy going Rillan Hill resident, said he was feeling good despite knee problems. "I want to give up this now though. They tell me I can't give it up, you can't give it up," he joked.
Nonetheless, he disclosed, "You feel good when you're doing it for the people," adding, "and I ain doing this for me, because this thing is very hard work."
He burns through many lights every year, and preparation takes until two and three o'clock in the morning at times.
Commenting on the substantial crowd of people that were there, Samuel revealed that he didn't light up last year, because he had a check-up to do overseas. "…I answered so many questions. All through town, Mr Samuel, we come at your house you didn't light up," he said.
The children in particular were waiting eagerly, arriving on the scene even for the testing of the lights leading up to the big day.
All that's left to see now is whether Samuel's lights, which will be judged this Sunday, will outshine the others for the top prize this year.