Posted on
Police capture escapees in Campden Park – one shot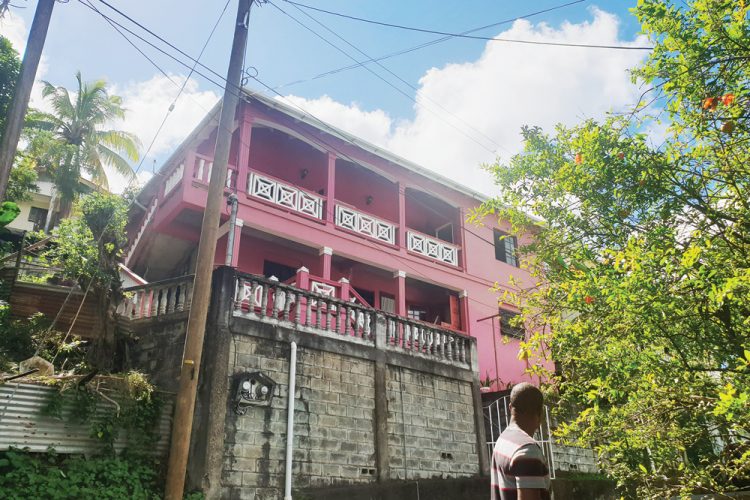 by Lyf Compton
Some residents of Plan, Lowmans Leeward were startled Thursday morning when gunshots rang out; shots they later learned had been fired by police during the apprehension of two men who had escaped from prison the day before.
When the chaos settled, escaped prisoners Veron Primus and Olrick "Chucky" Hanson were taken into police custody;
Primus to the Central Police Station in Kingstown and Hanson, who had been shot in the leg by police, to the Milton Cato Memorial Hospital (MCMH).
Police officers carried Hanson from the scene, while one of two women who lived in the apartment where the men were found was also taken away in a police transport.
The other woman was reportedly not at the house when police officers raided the apartment building and captured the escapees.
A resident alleged that Primus was hiding in the roof space of the apartment.
Early Wednesday morning, the Royal St Vincent and the Grenadines Police Force (RSVGPF) launched a manhunt for Primus and Hanson who were discovered missing from their cells at Her Majesty's Prisons (HMP) at White Chapel Road, Kingstown.
Primus had been serving a 16-month sentence for escaping lawful custody in 2019 and was awaiting trial for murder, while Hanson was awaiting trial for murder, robbery and burglary.
On Thursday, a police report said that at about 9:30 a.m., acting on credible information, a party of police officers went to a house in Campden Park and recaptured the escapees.
"During the process, a struggle ensued and Olrick Hanson received a gunshot wound to his left leg. He was taken to the MCMH for medical attention," the police release said.
When SEARCHLIGHT visited the Plan area on Thursday, most residents were tightlipped. One woman said she was surprised that the escapees were found in the area, while an elderly gentleman voiced that the police should have killed the men.
A man living next to the apartment building where Primus and Hanson were found said he had no idea the men were hiding out there, but offered nothing else.
A woman laughed, suggesting that the men had, "come for sex."
But the issue was no laughing matter as on Wednesday, several security measures had been put in place in relation to key witnesses and officials involved in the matters that Primus and Hanson are involved in.
Also on Wednesday, members of the public expressed outraged on social media when they awoke to the news that once again, Primus had escaped from prison.
Last year, Primus created nationwide panic when he was discovered missing from HMP on Tuesday October 1, 2019 at daybreak.
Several hours after escaping, Primus is said to have contacted lawyer Jomo Thomas who handed him over to the police.
Primus rose to notoriety on Friday, April 15, 2016, when police charged him in relation to the alleged abduction and sexual assault of Vermont resident Mewanah Hadaway.
Later, investigations led to Primus being charged with the murder of real estate agent Sharleen Greaves. Greaves was found stabbed to death at her Bijou Real Estate office in Arnos Vale on November 13, 2015.
The cases involving Hadaway have been dismissed, but in September 2017, Primus was ordered by Chief Magistrate Rechanne Browne-Matthias to stand trial at the High Court before judge and jury in relation to the murder of Greaves.
Primus is a deportee from the United States. A Vincentian national, Primus spent over 18 years in the US, and was indicted in 2016 for the 2006 murder of Brooklyn teen Chanel Petro-Nixon.
Hanson, originally from Mayreau, along with Glenville Harry of Vermont, and Jerome Ollivierre of Mayreau were on Tuesday, July 28, 2020 ordered by Senior Magistrate Rickie Burnett to stand trial for the murder of 50-year-old security guard and Victoria Village resident Rodney George.
Hanson, Harry and Ollivierre are also awaiting trial for burglary of the building the security guard was guarding at the time of his death. The men are accused of killing George sometime between August 31, and September 1, 2018.
Suspended police officer Ettian Charles also has a case to answer for burglary in this matter, but not the murder.
Charles was also originally accused of the murder of the security guard, but the prosecution conceded to a no case submission made by his lawyer, Grant Connell, and he was discharged for that offence.
The accused men are charged that they did enter upon the premises of GEC Auto Supplies Ltd of Arnos Vale as trespassers, during which time they stole $2,000.74 in cash, the property of Gevandean Wilson of Villa/United States of America (USA). The date for the alleged burglary is the same as that of the murder.
Furthermore, Hanson, Harry, and Charles were charged alongside one Elroy Rogers of New Montrose, and Rocuan Robinson of Campden Park for a separate robbery and wounding that occurred on September 18, 2018.
Hanson is also accused of the armed robbery of Lisa Wilson of Brighton on September 14, 2018, during which a cash machine valued at $1600, as well as EC$630 and US$115 in cash, were allegedly stolen at gunpoint. Hanson has as co-accused on this matter, Charles and Rogers.
Rogers, Hanson and Charles are also facing jail time for the wounding of Grafton McDowall, who they allegedly hit over the head with a gun on September 14, 2018.
Back in July 2020, Dr Reisha Twana Browne-Caesar, consultant nephrologist at the Milton Cato Memorial Hospital (MCMH) and wife of Saboto Caesar, the Minister of Agriculture, chose not to offer evidence against Hanson, and four other men who were accused of robbing her at gun/knife point.
Therefore, the accused men — Rogers, Harry, Robinson, Charles and Hanson were discharged of that charge of aggravated robbery.
Dr Browne-Caesar was robbed at around 9 pm on September 15, 2018 outside her home in Cedars.
The physician was carrying her son in her arms, and was exiting her motor vehicle, when she was said to have been approached by two masked men. These men, armed with a knife and a gun, relieved her of her handbag that contained cash, documents, an Iphone, and other electronic gadgets, among other things. The total value of the items stolen from Browne-Caesar amounted to EC$10,350.50.
However, Browne-Caesar indicated before Senior Magistrate Rickie Burnett at the Kingstown Magistrate's Court that she did not wish to continue with the matter. She indicated that she did not want to have to re-live the experience.
Louie Cupid, 12-year veteran prison officer has been charged with aiding Primus' October 1, 2019 escape from jail. He is presently on bail, awaiting trial.
Commissioner of Police (COP) Colin John on Thursday thanked the public for their cooperation, patience, and support
. He also thanked the officers who participated in the operation to recapture the prisoners.