Posted on
33 candidates to contest, including two Green Party, one Independent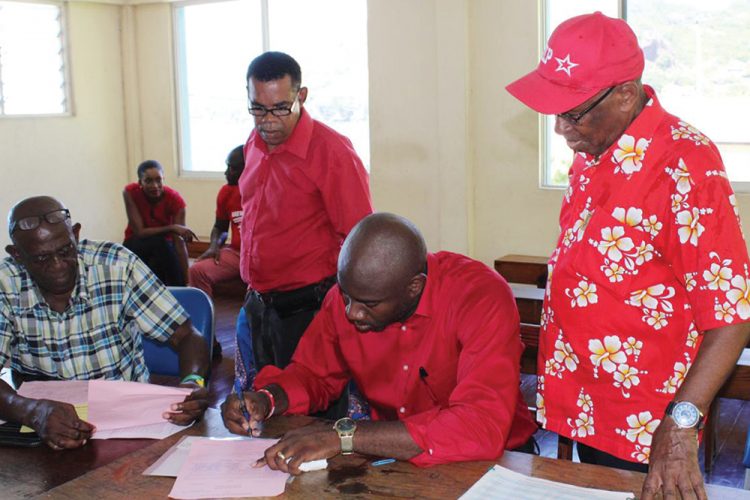 NOMINATION DAY 2020 took on a festive atmosphere as candidates in the upcoming General Elections journeyed to designated locations in their constituencies to submit their nomination forms with family members and supporters in tow.
Thirty-three candidates, including one independent candidate were successfully nominated on Tuesday, October 20 to contest the elections slated for November 5. Fifteen candidates each were nominated on behalf of the New Democratic Party (NDP) and the Unity Labour Party (ULP) respectively, while two were nominated to represent the St Vincent and the Grenadines Green Party (SVGP).
Prospective candidates were required to obtain nomination papers from the returning officers at specific places in each of the 15 constituencies between 9 am and 12 noon.
In the Central Leeward constituency, the NDP candidate, Benjamin Exeter and ULP candidate, Orando Brewster both showed up with supporters at the Layou Police Station to submit their nomination paper. Exeter, who unsuccessfully contested in the past two elections, submitted his paper first. Brewster, a first timer in the political arena, waited with his supporters on the other side of the street.
When the NDP candidate left the Police Station, he crossed the road and reached out his arms to embrace his opponent and both men shared a hug while some supporters cheered and also greeted each other.
Dr Godwin Friday, NDP's president and candidate for the Northern Grenadines walked to the Port Elizabeth Police Station to submit his nomination form with his wife, son and a number of supporters wearing white campaign t-shirts. In a video posted on social media, his supporters could be heard chanting as they waved yellow flags and rang bells.
He will go up against ULP candidate for the Northern Grenadines, Carlos Williams, who was also nominated on Tuesday. Williams is contesting for the first time, while Friday has represented the constituency since 2001.
When Dr Ralph Gonsalves, the ULP's political leader and candidate for North Central Windward went to submit his paper on Tuesday, he arrived behind two women, each in red campaign t-shirts, holding a banner marked "Standing firm with The Comrade". A number of chanting supporters wearing red shirts also followed in the small procession.
Similar forms of support for candidates and their respective parties were also witnessed in various constituencies and social media was alight with videos and group photos from the festivities of the day.
ULP's political leader, who has represented the North Central Windward constituency since 1994 will go up against NDP's candidate Chieftain Neptune, a first timer, as well as SVGP candidate, Kadmiel McFee who ran in East St George in 2015.
McFee is one of two SVGP candidates who have been nominated.
Ivan O'Neal, who is the Green Party's president, will contest in the East St George constituency against NDP's Laverne Velox, a first timer, and ULP's Camillo Gonsalves, whose first outing was in 2015 when he brought home the seat for the ULP. This will be O'Neal's fifth outing at the polls.
The only independent candidate in this year's General Elections is Rillan Hill resident, Asordo Bennett. He will contest in the South Leeward constituency against ULP's Mineva Glasgow, a first timer and NDP's Nigel Stephenson who has represented the constituency since 2010.
NDP candidates, Fitz Bramble, Kay Bacchus- Baptiste, Israel Bruce and Shevern John are all first timers at the polls.
Bramble will go up against ULP candidate, Luke Browne who is seeking to wrest
the East Kingstown constituency from NDP's grasp in his third outing at the polls.
Bacchus-Baptiste is going head to head with another newcomer, Curtis King who is contesting the East St George seat on a ULP ticket while Bruce will seek to wrest South Central Windward, a ULP stronghold, from their candidate, Saboto Caesar, who has held that seat since 2010.
John, an educator will go up against ULP veteran, Montgomery Daniel in North Windward; Daniel has represented the constituency for the last four terms.
Other political veterans, Edwin Snagg and Terrance Ollivierre will go up against each other in the Southern Grenadines for ULP and NDP respectively. Ollivierre has held that seat for four terms.
Bernard Wyllie, who represented the Marriaqua constituency from 1989 to 1998 as part of the Sir James Mitchell-led NDP administration, returns to the polls this year in hopes of beating the ULP's St Clair Prince, who is hoping to hold on to the Marriaqua constituency which he first won in 2015.
NDP's Noel Dickson and ULP's Frederick Stephenson will also battle it out at the polls in the South Windward constituency. Dickson is making his second bid for the seat which Stephenson has held since 2010.
St Clair Leacock of the NDP and ULP's Dominic Sutherland will contest in the Central Kingstown constituency, while NDP's Daniel Cummings and ULP's Deborah Charles will go up against each other in West Kingstown. Leacock and Cummings are looking to retain their hold on the seats they have held since 2010. Sutherland is a newcomer, while Charles unsuccessfully contested the West Kingstown seat in 2015.
In North Leeward, ULP candidate Carlos James will make his second attempt to wrest the NDP seat from their candidate, Roland Matthews, who has represented the constituency since 2010.
Nomination Day 2020 ended with large rallies being held by the ULP and NDP in separate constituencies.