Posted on
GHS lass is 2020 top student in CSEC exams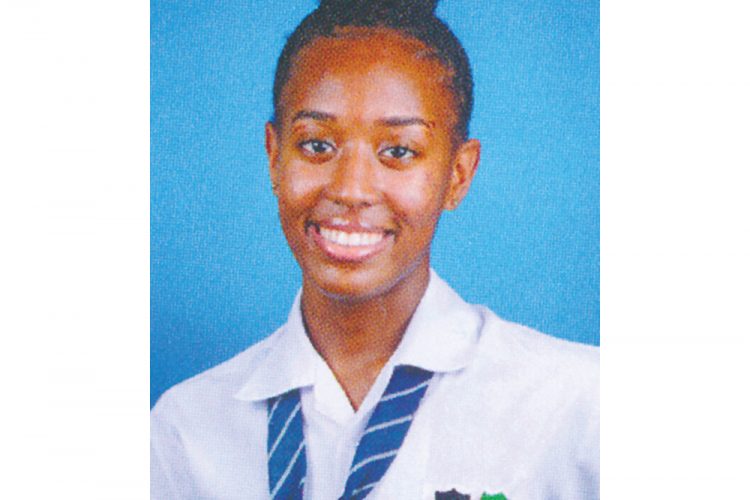 For the second time in her life, Paige Cadogan has earned the accolade of being the nation's top academic performer.
The teenager first distinguished herself academically in 2015 when as a student of the Windsor Primary School she tied for first place in the CPEA examinations.
Five years later, the former student of the Girls' High School has once again been named the nation's top performer, this time in the 2020 CSEC examinations.
"I'm very happy about it, very proud. Very relieved that the results are finally out actually and everything is done and over with, and I can, you know, move on to the next stage in my life," she told SEARCHLIGHT on Wednesday afternoon.
The 16-year-old obtained Grade I passes in English A, English B, Additional Math, Information Technology, Electronic Document Preparation Management, Chemistry, Biology, Physics, Principles of Business, Principles of Accounts, Economics, Office Administration, Spanish, French. She received a Grade II for Geography.
Cadogan also sat General Mathematics in the fourth form and obtained a Grade I, which means she has a total of 16 CSEC subjects.
As a result of the coronavirus pandemic, face to face learning was cut short for fifth formers in St Vincent and the Grenadines. For the GHS student, this meant online instruction for a two-month period to complete syllabi.
In this time, the Caribbean Examinations Council (CXC) decided on a modified approach to examinations, where students were only required to complete SBAs and sit the Paper I (multiple choice) exam.
"It was a bit harder to prepare in terms of the loss of face to face classes and then switching to online," Cadogan said. "The uncertainty basically was challenging because we weren't sure how the grading was going to be, like the weighting, so like how much the SBA would weigh compared to what the multiple choice would weigh, what the curve would be like."
She added that while it was stressful at times, the experience was not terrible.
This year's top performer, who was also her school's headgirl during the last academic year, is encouraging other students to do away with self-doubt and never underestimate their ability to do well.
Cadogan also said that procrastination is inevitable "but try for it not to happen because it would only be worse in the end".
The daughter of Dr Simone France and Andre Cadogan of Ratho Mill intends to attend the St Vincent and the Grenadines Community College, where she will pursue studies in Management of Business, Economics, Math, Computer Science and Communication Studies at the CAPE level.
She also has her sights set on a degree in either Actuarial Science or Economics as business and math are two of her favourite things.
Cadogan is one of four Girls' High School students who have earned top spots nationally in this year's CSEC examinations. The other three are Zowie Bullock, Denisha Parsons and Jaynika Williams, all of whom sat 13 subjects and obtained all Grade Is.