Posted on
Pickpocketing bar owner ordered to pay compensation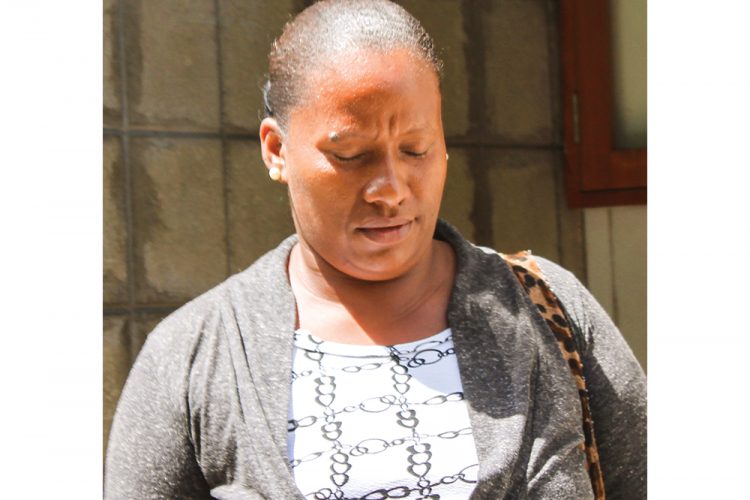 The court has ordered the owner of a bar in Sandy Bay to pay swift compensation, after she picked the pocket of a St Lucian/Canadian customer and deprived him of his wallet containing essential documents and cash.
At the Serious Offences Court on Monday, September 21, Chief Magistrate Rechanne Browne declared 35-year-old Sandy Bay resident Maxine Baptiste guilty of the crime of theft.
The incident in question occurred on August 15, and since then, St Lucian born Canadian resident Lloyd/Ghislain Yard has had to stay in St Vincent and the Grenadines (SVG), having been deprived of his wallet containing his Canadian Identification Card, credit card, health card, license, bank card, resident card, CDN $500 cash, US$200 cash, and EC$800 cash.
Prior to the conviction there was a full trial, following which senior prosecutor Adolphus Delplesche and defense counsel Ronald Marks made submissions to the court.
The evidence of the prosecution is that Yard was in St Vincent on vacation. It is said that it was his first visit to SVG for 16 years.
On the day in question, he visited Baptiste's bar in Sandy Bay at around 8 pm, and used money from his wallet to purchase items.
"The defendant didn't have change, he (Yard) then gave the defendant US$5 and the defendant told him she accepts that – two for one," the prosecutor summarized to the court, noting that the exchange rate is known to be around 2.67. Therefore, he pointed out that right away one would see that she "rip him off".
After staying at Baptiste's business for a while, Yard went to a neighbouring business, and was buying drinks and socializing.
The defendant herself went over there at some point with an icebox, and Yard bought drinks from her as well.
"There is no question your honour that on that night the defendant had an eye on the virtual complainant," the prosecution submitted, and noted that Baptiste herself said that Yard was spending money.
Yard returned to Baptiste's business place at about 4 am, where he ordered drinks again.
Drinks were shared among persons including Baptiste and her boyfriend, and Yard also purchased chicken and chips.
Yard asked for his phone to be charged, and Baptiste volunteered to charge it. He then said he was tired and dozed off.
According to the star witness for the prosecution, Kaleen Woods, Baptiste then used this opportunity to pick his pocket and make off with the wallet. Woods said when she observed what happened, she mentioned it to her friend who was next to her but didn't think too much of it.
Yard did not realize that his wallet was missing until he was in a van heading back to Georgetown.
The defence submitted that the star witness for the prosecution was lying. "This is a typical example of how a person's reputation can be destroyed and tarnished by one person's mouth," Marks stated.
He noted that the incident happened on August 15, but August 23 is when "these star witness decide to come forward."
During the trial, Woods said that she had problems with blood pressure and that is why she didn't go to the police with the information when it happened.
"We submit the reason she didn't go in, and her friend either, is because they know more about this than they are telling us," Marks said.
The counsel argued that what happened that night was either that Woods took the wallet in collaboration with her friend, or she took the wallet and blamed it on the defendant.
The evidence is that Yard was sitting in Woods' lap at one point, and it was put to her during trial that she stole his wallet at this point.
However, also during trial, the prosecution asked if Yard paid for drinks after sitting on Woods' lap, and it was said that he did, therefore showing Yard had the wallet in his possession after sitting on Woods' lap.
"The evidence is that he didn't stay in her lap, he got up and he paid. So when he got up and paid, he was not in her lap," Delplesche posited.
"Woods was never a suspect in this matter based on the police's investigations," he said, and that there may be a moral obligation of a witness to come forward but to his knowledge there is no legal requirement. When the police are investigating, they are the ones to go out, and seek information, he said.
After submissions, the magistrate ruled the defendant as guilty based on the evidence and witnesses in the case.
The defence asked that a financial penalty be imposed for the mother of five, who had a previously clean record.
Yard was present at sentencing, and the prosecution noted that he was asking for compensation.
Delplesche stated that he would not ask for a custodial sentence because it is her first offence, but commented "it doesn't look good for our business community."
"If I can borrow a quote from a former senior magistrate, he would say she behaved like a serpent beneath a lily leaf," the prosecution said, adding that it was unfortunate.
The emotional distress, high level of inconvenience caused by the disappearance of critical documents that he needs in order to travel, the targeting of the victim when he was vulnerable and sleeping, and the careful strategic planning were factors considered by the magistrate in sentencing.
However, with no previous convictions, Browne decided not to impose a custodial sentence. "The court was considering very strongly a custodial sentence to show as an example of deterrence to others that these kinds of crimes will not be tolerated," she also stated, but considered some of the points made by defence counsel.
Compensation of EC$1200, inclusive of the cost of replacing documents, CAD$500 and US$200 was ordered. The magistrate said she wanted the compensation to be swift as Yard has been "out of pocket for a while", and "within a few seconds everything went."
The sum of EC$1200 was ordered to be paid forthwith, while the CAD$500 and US$200 was ordered to be paid by Wednesday. The $1200 was paid forthwith, but if the Sandy Bay resident failed to pay the remainder, the order is for a five-month incarceration to be imposed.
Baptiste was also bonded for six months in the sum of $900, with a default of six months imprisonment.