Posted on
SVGCC graduands overcome Covid challenge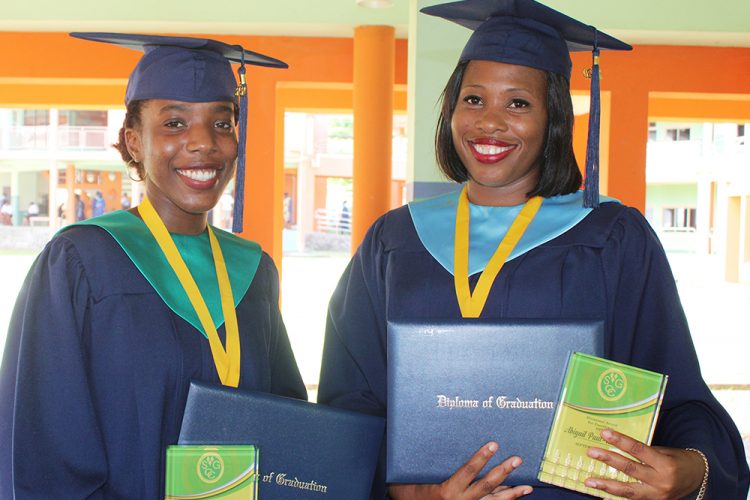 The usual pomp and circumstance of the yearly amalgamated St Vincent and the Grenadines Community College (SVGCC) graduation was traded in for two simpler ceremonies at the college's Villa Campus last Friday.
As a consequence of the COVID-19 pandemic, graduands from the college's four divisions attended their ceremony almost three months later than usual.
And a series of protocols were implemented at two ceremonies, each of which lasted half the time as previous larger ceremonies at the Victoria Park.
"2020 has not been an easy year and that perhaps, would be an understatement, but I'm pleased to know that the graduates have persevered," Nigel Scott, director of the SVGCC said during the afternoon ceremony.
Instead of his usual 30-minute address on the highlights of the past academic year, the director gave only brief remarks where he recognised the efforts of the graduates during the challenging time.
Scott said that about 400 students of the graduating class of 821 agreed to be a part of last Friday's ceremonies.
Approximately 196 students from the Division of Technical and Vocational Education and Division of Nursing Education attended the morning ceremony while over 200 from the Division of Arts, Sciences and General Studies and the Division of Teacher Education attended the afternoon ceremony.
Graduands were only allowed one guest each and guests were seated under tents on the lawns of the Villa Campus.
Physical distancing amongst graduates was in effect as every other seat in the lecture halls was left empty.
Temperature checks were administered before admittance to the venue and graduates and guests were expected to exit immediately after the collection of certificates and photo opportunities.
Both ceremonies were streamed live via YouTube.
The tradition of lengthy addresses was curtailed, replaced by brief pre-recorded remarks by various administrative and government officials including Prime Minister Dr Ralph Gonsalves and St Clair Jimmy Prince, the minister of education.
"Many of you are in transition to jobs, many of you are in transition to university. Whatever you're going to do in life, just do your best," Gonsalves said in his video clip. "If you have at any time, any setbacks, please turn those setbacks into advances.
The prime minister said lots of opportunities are available to graduates and his government will continue to provide the necessary framework to ensure that these opportunities will continue to exist.
He also encouraged graduates to be good to everyone around them and remain true to themselves.
In previous years, only one of the four valedictorians addressed the graduation ceremony.
This year, all valedictorians from the various divisions shared words of encouragement in short video clips, which were played at both ceremonies on Friday.
The 2020 valedictorians are Surana Harry from the Division of Technical and Vocational Education; Abigail Paul-Kamara from the Division of Teacher Education, Ithabel Clouden from the Division of Nursing Education and Kelcey Allen from the Division of Arts and General Studies.
There was no feature speaker.
Instead, the ceremony featured video clips with words of encouragement from various professionals including Oalex Anderson, Vincentian international footballer; Shaunelle Mckenzie, 2019 Queen of Calypso and National Calypso Monarch; Kesrick Williams, Vincentian West Indies cricketer; Phillip "Wetty Beatz" Bastien, Vincentian soca artiste and producer; and Erphaan Alves, Trinidadian soca artiste.