Posted on
Young man rescues his mother from her life on the street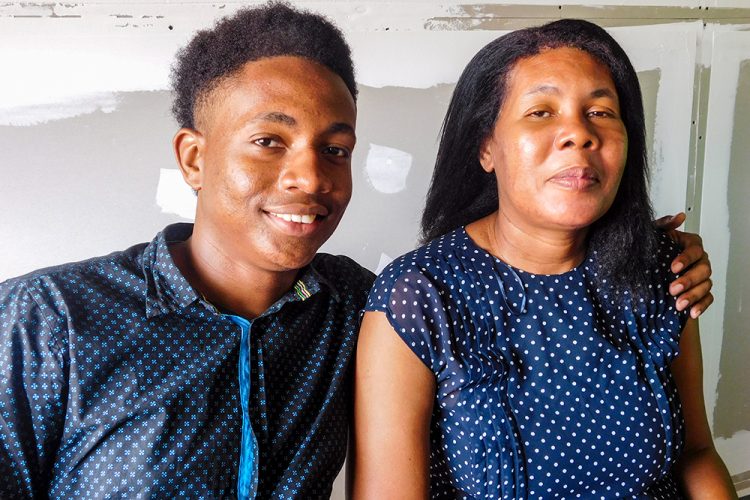 by Bria King
The past 10 months have been a dream come true for a 23-year-old who finally got to reunite with his mother, who has spent possibly more than 10 years begging on the streets of Kingstown.
Orol Roberts sent out a message via social media last Friday on behalf of his mother, Lisa Roberts, who is also seeking help to reconnect with her daughter, who could be around 15 years old.
The message, which included 'before and after' photographs of Lisa received much attention as many persons were shocked by the transformation since she has been off the streets, and remember her from the years she spent standing around Kingstown, asking for financial help.
"…God turned my whole life around by reconnecting me with my 23-year-old son and other family members and I thank God for that everyday," the message read.
And in an interview with SEARCHLIGHT yesterday, Roberts said that he doesn't remember exactly why he was separated from his mother, just that he lived with different family members for some time until he settled with an aunt and her husband in Campden Park.
He said that this was since he was seven years old. And while his aunt and her husband raised him as their own, he always knew that Lisa was his biological mother.
"I used to meet up and talk with her and so on and we used to have conversation. I used to tell her, it would get better one day, just give me some time. I was still a student…," Roberts, who works at the Argyle International Airport, said.
The young man said that it wasn't until he had moved into his own apartment in Diamond with his fiancé at the time, that he began making plans to bring his mother home.
The now married man remembers driving into town and sharing his idea to his mother. He said that he instructed her to stand under the Cobblestone Inn gallery where he would meet her and pick her up so she could live with him.
"It was a feeling I can't just explain. It's so amazing, it's overwhelming, knowing that you have your biological mom by your side again, that could really change a lot of things for you, you know," Roberts told SEARCHLIGHT. "I think it makes you love better, loving your mom, having that genuine love for your mom and seeing her do better makes you love better so I'm very appreciative of that and having her here."
For the 46-year-old woman, it was also an overwhelming experience to have her son ask her to come and live with him.
The mother of two said that she does not recall how she got to be separated from her children but she always knew that she would be able to connect with them.
"It was hard, not so good," Lisa said quietly, about living on the streets. She also agreed with her son that it was a depressing and unsafe experience.
She said that before she lived on the streets, she was renting a house at New Montrose but she was in a bad relationship so "I didn't really want them to come, so I never used to sleep in the night up there".
And Lisa said that so far, living with her son has been a good experience.
Roberts told SEARCHLIGHT that he appreciates how supportive his family and members of the public have been throughout everything.
"This was a goal for me and I accomplished it but I didn't know it would've been coming with a lot of support and so on so I appreciate it and I'm happy for that," he said.
But the 23-year-old still wants the opportunity for his mother to be able to reconnect with her teenage daughter. He explained that he and his sister do not share the same biological father.
The message sent out on social media last week alleges that Lisa's daughter was taken from her by her father, Leon Parsons, who is from Vermont.
And Roberts said yesterday that he has received information that his sister is in Canada but he hasn't been able to find a way of contacting her. He also suspects that the 15-year-old girl may not know that Lisa is her biological mother.
"I want her to have what [my mother] has with me, a relationship and to talk with her (Lisa), actually be there with her if possible and rebuild family; those times that she missed. She deserves to have them back," Roberts said.
For now, the young man hopes to make his mother's first Christmas with him an amazing one and while he did not disclose his plans for fear of spoiling the surprise, he has all intentions of making up for lost time.