Posted on
Vincy Heat too hot for Dominica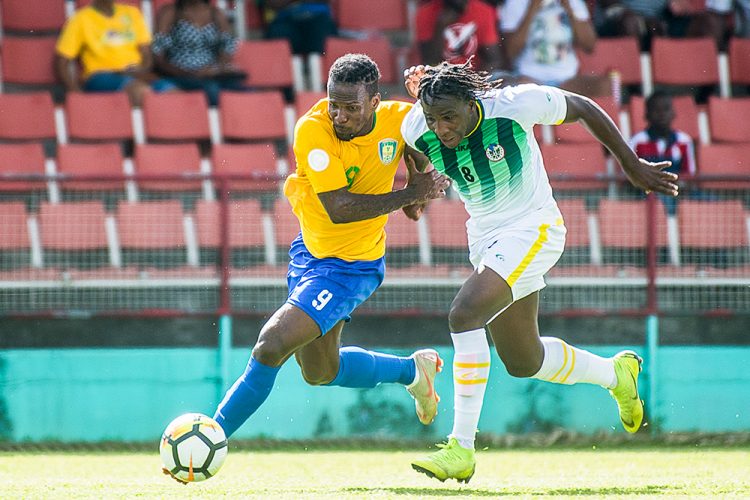 St Vincent and the Grenadines' senior men's football team was able to overcome a long travel from Nicaragua, and soaring temperatures, to trump one-nil against Dominica, in their second match of the CONCACAF Nations League.
With most of the starting 11 having returned home a mere 20 hours before the 3 p.m. kick-off last Sunday at Arnos Vale Playing Field, the home team though showed greater enterprise than their opponents.
Vincy Heat's potent striker Chavel Cunningham was again Dominica's nemesis, as he scored in first half injury time.
Cunningham pounced on a loose ball after an Ahzino Solomon shot rebounded from the arms of Dominica's goalkeeper and captain Glenson Prince.
Vincy Heat turned up the tempo a notch in the second half, with Cunningham guilty of hitting his shot wide after being set up by his captain Cornelius Stewart.
The win put Vincy Heat on four points from two matches.
Before Sunday's match, Vincy Heat earned a 1-1 draw against Nicaragua in Nicaragua.
Oalex Anderson gave the Vincentians the lead in injury time of the first half. 
Anderson was served with the ball on a platter after a direct throw off from goalkeeper Dwayne Sandy, who passed to Anderson. 
Anderson evaded a defender and the Nicaragua goalkeeper, before slotting the ball home. 
Nicaragua got the equaliser in the 87th minute, when Vincentian defender Jamol Yorke turned the ball into his own net, as he was unable to negotiate a low corner kick from the Nicaraguans.
Reflecting on the two matches, head coach of Vincy Heat Kendale Mercury underlined the long travel affected Sunday's fixture.
"We knew what we were up against in terms of the travel and we were somewhat prepared for it," Mercury told reporters following Sunday's match.
He said that although they were mentally prepared for the long travel, they were still hit with unforeseen circumstances.
Mercury noted that after reaching Trinidad and Tobago, from Nicaragua via Panama, the team had a protracted lay-over in the twin island republic before heading back to St Vincent and the Grenadines in two batches.
Mercury revealed the second batch of players returned to SVG after 6 p.m. on Saturday evening.
The Vincy Heat head coach acknowledged that this phase of the competition, as it related to travel, would have been "the most difficult one".
Vincy Heat next play group leaders Suriname here at the Arnos Vale Playing Field on October 11 and the return leg in Suriname on October 14.
Suriname have six points from two matches, with wins over Dominica 2 – 1 in Dominica and swished Nicaragua 6-0 in Suriname. 
Vincy Heat host Nicaragua on November 15 and take on Dominica in Dominica on November 18, as group four of tier B concludes.