Posted on
RSVGPF tackles traffic congestion in Arnos Vale area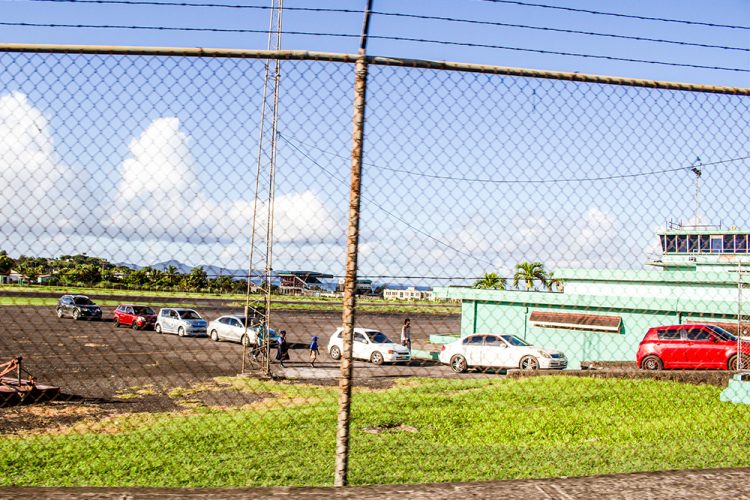 Head of the traffic department, Superintendent of Police Kenneth John is satisfied that efforts to lessen congestion in the Arnos Vale area have gone well.
And despite some challenges, he is optimistic that things will be near perfect by Thursday this week.
The traffic department of the Royal St Vincent and the Grenadines Police Force (RSVGPF) announced via its Facebook page on Sunday that the gates at the decommissioned E T Joshua Airport would be opened to allow for vehicular traffic across the old runway.
This is in an effort to ease traffic congestion in the area.
"I can say it went fairly well…" Superintendent John told SEARCHLIGHT yesterday afternoon. "We got some feedback from persons who said they didn't expect to reach work so early, but there are one or two persons who still have their little grouse but all in all, it worked well."
John said that some problems were encountered, but the department has since made some adjustments.
One such adjustment is the diversion of traffic heading to Kingstown, away from the main Arnos Vale road and through the Cane Garden area.
Initially, traffic coming from the Calliaqua direction would go across the bridge just outside the entrance to the Arnos Vale Sporting Complex, across the tarmac, then exit at the gate opposite the St Vincent Motors Rubis gas station and merge with the traffic on the main road.
But the head of the traffic department said that "traffic coming from the Windward side in the morning; instead of coming back on the main Arnos vale road, we want to divert that one down towards the Police garage and down to the Technical College and then you can use the Cane Garden route".
John said that when this was done yesterday, traffic flowed smoothly and this will continue throughout the rest of the week.
The gates leading onto the tarmac will open at 7a.m. daily and close around 8:30 a.m. for traffic coming from the Calliaqua direction.
No traffic will flow across the tarmac until 3:30 p.m. when the gates will open for traffic coming from Kingstown.
The gates will close again at approximately 5:30 p.m.