Posted on
New Secondary School opens on Canouan with 19 students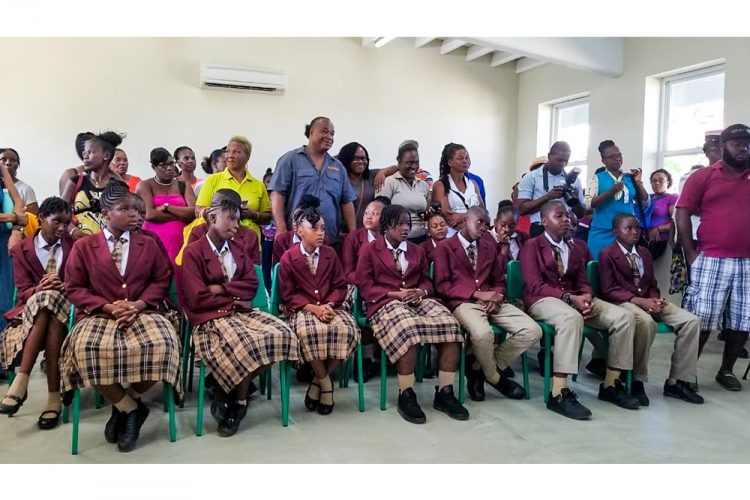 by Bria King
The 2019/2020 school year began yesterday with one new secondary school being opened in the Grenadines and refurbished facilities at several of the educational institutions across the nation; the reopening of a handful of schools was however delayed.
The Canouan Secondary School opened its doors to its first batch of students yesterday.
And the school, which is a collaborative effort between the Government of St Vincent and the Grenadines and investors on Canouan, has enrolled 19 first formers; 15 students from Canouan and four from mainland St Vincent.
An official ceremony was held at the school with parents and students in attendance, as well as Ministry of Education representatives including the Minister of Education, St Clair Prince and chief education officer Elizabeth Walker; parliamentary representative for the Southern Grenadines, Terrence Ollivierre; director of Grenadines Affairs, Edwin Snagg and Achille Pastor-Ris, a representative from the investors.
Minister Prince, in his message to mark the opening of the 2019/2020 academic year, said that the Canouan Secondary School was designed to meet the needs of students on the island who are moving from primary to secondary level education.
Godfred Pompey, a government consultant stationed in Canouan told SEARCHLIGHT that six teachers have been assigned to the school, two of whom are from Canouan.
All core secondary school courses, including information technology and science will be taught at the school.
The four students from the mainland are children of people who originally resided on mainland St Vincent, but now work in Canouan.
The air-conditioned building housing the first batch of students is a temporary facility. Pompey said that work on the secondary school building began a month ago and will continue.
"They are presently working on the main complex which will include all the classrooms for the secondary school and the new primary school," he said.
The Canouan Secondary School isn't the only new development for this school year.
"We have also embarked on a new initiative to extend the academic programme at the Fairhall Government School to facilitate students at the secondary level. This is done with the intent that the students registered at this school will receive academic support specific to their learning needs," the education minister said in a message to schools.
He said that "some of these are truly gifted and others require special academic support to propel them into realms that will birth their potential. Therefore, the Grade Seven or Form 1 in this institution is designed to meet the needs of these students".
And even more emphasis will be placed on Special Education this academic year.
The education minister said that while the Ministry continues to encourage inclusive education at all levels, further steps were taken to ensure a cadre of teachers received training to work with visually impaired students.
Prince also said that the government has sought to expand counseling support for more schools and it is intended to provide assistance to students who are in need of emotional support.
"It is our responsibility as a society to do all in our power to bear up our young people and guide them into pathways which would direct them away from crime, violence and bullying," he said. "We also solicit the assistance of teachers, parents and all stakeholders in providing healthy avenues for our young people to thrive and flourish."
Other initiatives for this school year include a country-wide School Improvement Programme valued at over six million dollars.
The education minister said that under this project, some schools will be fitted with brand new furniture in an effort to enhance the comfort and wellbeing of students.
Prince also said that this is the first time since 2001 that so much money is spent at any one time on learning institutions in the country.
While most of the nation's schools opened yesterday, the Ministry of Education last Friday announced that the re-opening of four schools would be delayed. The Georgetown Secondary School will open tomorrow, Wednesday September 4, while the Calliaqua Anglican School, the Kingstown Anglican School and the Park Hill Government School will re-open one week late, on Monday, September 9.
And yesterday, pupils attending the Kingstown Government School were sent home at midday after they turned up to what some parents described as "deplorable conditions". Up to press time, there had been no indication as to when that school would reopen.
The Minister of Education said each year brings new challenges and positive changes in the school system and how these issues are confronted will determine whether they are challenges or opportunities for upward mobility.
"I want to caution you to respect your teachers and cooperate with them. Take control of your learning process as far as possible and research your work. We are living in a fast changing world and as you have the opportunity, make use of your talents and unearth your potentials," Prince said.
And he wished all students a successful, productive and safe school year.