Posted on
Man loses temper and assaults 'baby mother'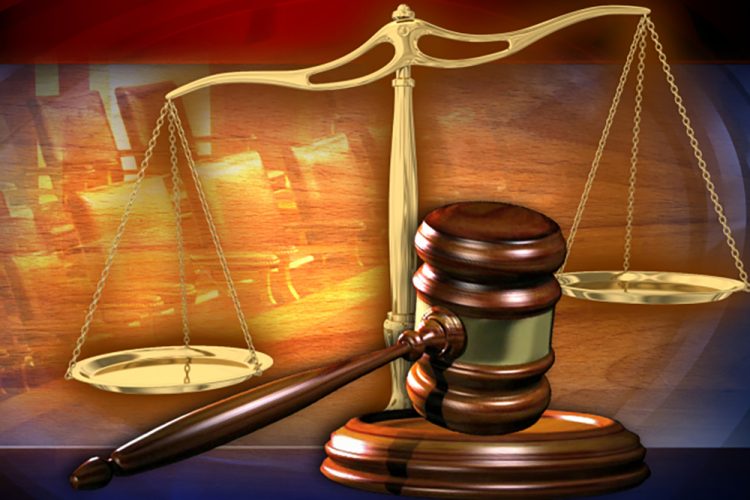 A 26-YEAR-OLD man who lost his temper, and assaulted the 21-year-old mother of his infant son, is now ordered to walk the straight and narrow for one year, or suffer financial consequences.
These young parents ended up before the Kingstown Magistrate's Court on Monday, January 25, with the father Omari Hannaway in the dock for the crime of causing assault bodily harm to his former girlfriend, Ronecia John of Chauncey, on January 19.
He admitted his guilt.
The union between these two lasted six months, and out of this they produced a child who is now one year and eight months old.
The police have established that Hannaway often frequents John's home to visit his son, and bring food and other items.
On the day in question, close to noon, John was at home speaking to her current boyfriend on the phone. During the conversation, Hannaway entered her home, approached her and pulled away her cellphone. He then apparently slammed the phone on the ground and stomped on it, pushed John, and slapped her on the left side of her face.
John left to go to the neighbour's house, and while there reported the matter to the police. In court, Hannaway relayed his version of the incident to Senior Magistrate Rickie Burnett, who asked him about the cause of his actions.
"Boss first I didn't…" he told the magistrate, and was promptly rebuked by the officers in court.
"First of all I am never a boss to anybody…I'm not your boss," the magistrate told him.
Hannaway continued with the proper address and seemed to explain that the two of them had an agreement concerning dating, and he had told her that if anything happened to his son he would be upset. He also started saying something about the money he spends.
At that, the magistrate instructed the young man "you are maintaining your son, as part of your responsibility because both of you had sex and a child was born." "And she is also maintaining that child as well," Burnett noted, "you need to get that in your head."
Hannaway accepted this and continued. He said that he had been trying to communicate with John, and asked her to save his phone number in her phone.
He recalled that a few days before the incident John had only "stewpsed" in response to requests for his number to be saved.
Because she did not communicate with him, Hannaway said he went up to her house on the day of the incident, to see what his child needed. He did not tell her he was coming. When he reached the porch, he said he heard whispering.
"…A man voice, which I thinking it was a man inside there, round my yute," the defendant said, and therefore he listened in on the conversation.
"I dey dey listening to the conversation, like the man tryna tell she come check him, come in town," he continued. Apparently they believe their child to be vulnerable to Covid-19 because he caught pneumonia
and almost died.
After listening for some time, he entered the house, seemingly surprising John. "I say who you was talking to? She stewps, I go and I pull way the phone, she was drinking tea, I go and I pull wey the phone," Hannaway admitted.
The magistrate asked him if he thought this was right, and he replied that he was wrong, but noted that she didn't add him to her contacts.
"You see when both of you were together, right, there are certain things that you could have done, but when y'all are not together anymore, you have some limitations you know?" Burnett told him, and that he cannot demand things of her.
Hannaway observed "It's so complicated you hear judge? It's like me and she does go good," "I don't self spend my money on nobody else close to me."
"You keep talking about spending money, you are not spending money, you are maintaining your son, that you helped to come in to this world," he was told.
"Is true," Hannaway replied.
He continued with his story, saying that he got "little feelings" because of the communication problem and because John was on the phone with a "stranger" she only knew for a few months.
In taking away her phone, Hannaway said the tea had spilled on John. He said that he did not mash the phone as he still wanted to speak to his son.
Apparently, John was trying to get the phone back, and he was arguing with her, telling her that she wasn't trying to reason with him. "I end up and chook she in she face," he said.
Twenty-one-year-old Ronecia John, also gave information. She said that there was one other occasion when defendant Omari Hannaway was aggressive towards her. This was when he apparently threatened violence against her when she was pregnant, after he saw her talking with another man.
The young woman told the magistrate that the defendant wasn't a good boy, and that she did believe him to be jealous.
She said, on the topic of maintenance, that sometimes he wouldn't bring anything for her when he visits, and there are times when she is hungry, but has to feed their child.
The magistrate advised the two go to the Family Court and put in place a proper arrangement for maintenance.
He bonded Hannaway for one year in the sum of $1000. If he does not keep the peace for one year, the defendant will have to pay this or spend six months in prison. The magistrate said that if Hannaway breached the bond, he wants him to be brought back before his court.
John did not want compensation from Hannaway.