Posted on
Master Drug Delivery provides safe way for patients to access their prescriptions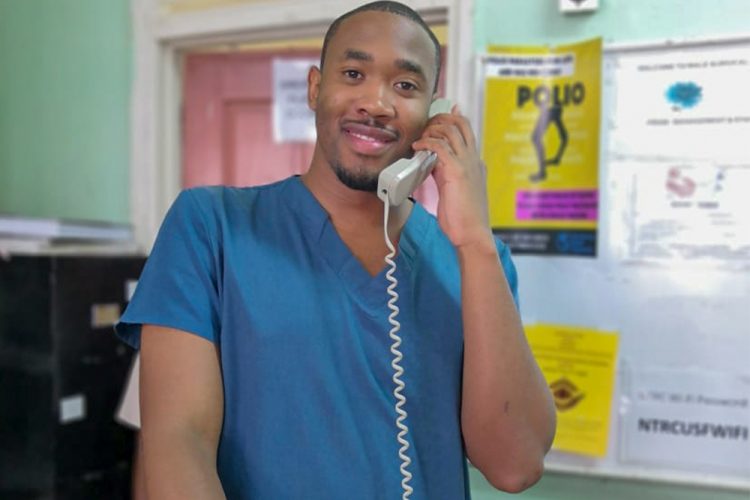 Need medication delivered from the pharmacy to your home? Dr Michael McMaster and Master Drug Delivery are here to assist.
Master Drug Delivery is a service that connects pharmacies to persons wherever they are, eliminating the need for individuals to leave their locations to purchase medication.
McMaster, who practices medicine at Integrated Medical Care at Arnos Vale said the idea for his mobile medication delivery service came about after he saw a patient who had suffered a stroke due to lack of medication, as she was afraid to travel into Kingstown because of her fear of contracting COVID-19 on public transport.
"My goal is to provide a convenient and safe way for our patients to access their prescriptions and over the counter medications," McMaster explained to SEARCHLIGHT on Wednesday.
Anyone who wishes to use the service may contact Master Drug Delivery through 1 (784) 454-1784 after which they will be asked to send a photo of the prescription or the required medication via WhatsApp.
Prescriptions must have a doctor's signature and should not be altered in any way as procedures are in place to verify that a written prescription did in fact come from a registered doctor.
McMaster says the service benefits senior citizens, amputees, residents at nursing homes and patients living with HIV/AIDS (who are still dealing with the fear or stigma of collecting their medication in the public), and also hypertensive and diabetic persons.
He said the method also prevents patients/customers from going to several pharmacies in search of specific medications which can be very stressful and time consuming.
"For patients who have to use taxi, public transportation or walk, this would prevent you from further compromising your health. As you will no longer be at risk of coming in contact with the COVID- 19 virus while trying to access your medication," McMaster explained while stressing that the service is for everyone.
"This is basically a safe and convenient way for persons to get medication. There is no need to catch a van and since COVID-19, some people are using taxis to go and come, so my service is just an easier way," the doctor said.
The business is into its first week of operation and McMaster notes that persons have been gravitating towards it. The service is available throughout St Vincent and the Grenadines (SVG).
The price paid is the cost of the medication plus the fee a taxi would usually charge to get to the person's destination.
The fee will be communicated at the time of the order and the service is available between 6 am and 7 pm.
Monthly and yearly plans are also available.
"I have seen a large number of patients with elevated blood pressure, strokes and persons brought to us unconscious because they are afraid to come to Kingstown because of COVID-19.
"Then you have complaints from amputees and persons who say they are too old and scared to catch the coronavirus. There are also stigmas attached to certain medication so we eliminate all that," McMaster added.
He however stressed that while they will deliver morning after pills / emergency contraception, they will not deliver abortion pills as they do not practice that type of medicine.