Posted on
CDL recognizes frontline Nurses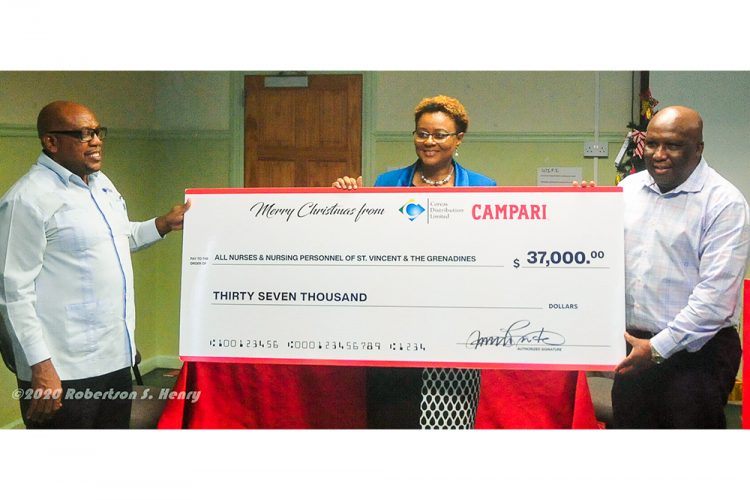 Nurses on the frontline of the battle against Covid-19 and Dengue Fever have been recognized by Coreas Distribution Limited (CDL).
During a ceremony to hand over gift vouchers on December 22, Minister of Health St Clair Prince said over the years, there has been "a lot of criticisms, a bit of it unfair, in respect of the work that nurses do."
The minister said no one has come forward "to say that we appreciate the work that nurses do. It is a small token, but it is the gesture that matters, and I am most moved by this gesture. I do not think since Independence, that a private sector entity has come forward to recognize the efforts of the nurses."
The presentation by CDL, which recognized the efforts and sacrifices made by the nurses in St Vincent and the Grenadines (SVG) who are on the frontline of the fight against the coronavirus pandemic and the dengue fever outbreak, took place at the Conference Room of the Ministry of Health, Wellness, and the Environment.
The over 700 nurses spread throughout the length and breadth of the multi-island state have over the preceding months, risen to do battle against the two health challenges.
"When the 72nd World Health Assembly declared 2020 the International Year of the Nurse and Midwife, no one envisaged anything as unprecedented and unpredictable as the Covid-19 Pandemic. And, as if that was not enough, for us … along came Dengue Fever," stated Chief Nursing Officer Peggy DaSilva as she addressed last week's presentation ceremony.
"As a group which makes up more than 51 per cent of the healthcare workforce, we have risen, as expected, to the challenges and impacts.
"Nurses, I know that you have gone above and beyond your call of duty, on numerous occasions, to ensure that the health and wellbeing of our nation is protected, and in some cases restored in the face of COVID-19, in spite of and despite your very own anxieties, fears and being discriminated against."
According to Jimmie Forde – Managing Director of CDL, the gift of EC$37,000 was a small but very tangible way by his company to recognize the sacrifices by the many nurses on the frontline, as SVG battles against the twin health evils of the Covid-19 pandemic and Dengue Fever.
He added that CDL saw a need to honour the work, the sacrifices of the nurses, who have stuck to the task in the fight against the greatest threat to the wellbeing of mankind, the coronavirus pandemic, and also the dengue fever.
Permanent Secretary in the Ministry of Health, Wellness, and the Environment Cuthbert Knights saw CDL's gesture as one which would encourage the nurses, and that other institutions would emulate this timely example by one of their own.(Robertson Henry)