Posted on
Lennox Bowman retires from GECCU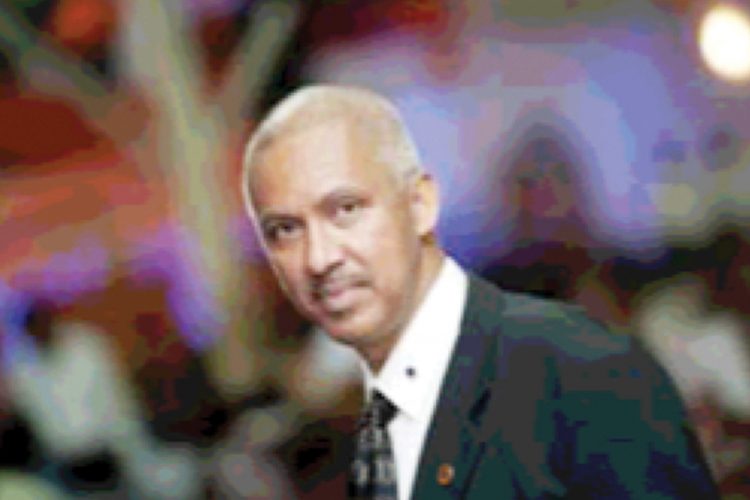 by Melvin R. Edwards,
Former Chair/Presidente, World Council of Credit Unions
September 16, 2020
Shortly after being elected to the CCCU Board of Directors in July 2014, he was dubbed "CEO extraordinaire" by veteran Credit Union trainer Bob Schumacher (USA). Lennox Bowman migrated from the banking sector in 1994 to join the Government Employees Cooperative Credit Union (GECCU). He was exposed to the unique ethical principles, history, structure and best practices of cooperative credit unions under the tutelage of the late, legendary Mrs. Viola John, the institution's First General Manager. By January 1st, 1999, he assumed the top management position of GECCU, later renamed General Employees Cooperative Credit Union Limited to preserve the popular acronym. He demits office on September 30, 2020 after 26 years of unbroken service.
LEADERSHIP
Lennox has scored several highs in his quest for excellence, participation and growth for GECCU Ltd. and the Vincentian Credit Union Sector:
He supported a partnership between the Irish League Foundation and the SVG League that fostered leadership development and organization strengthening for the weaker, rural CUs [1996-1998].
He collaborated with Julian Jack and Angela Patrick-Bertrand so that the SVG League hosted the First OECS Credit Union Summit in 2003 and subsequently the 2009 and 2016 Summits.
Working diligently with the League, Credit Union Directors and Sandra Davis – then Registrar of Cooperatives, he helped to build national consensus on key areas of Law Reform and lobbied Government officials, resulting in Parliament's unanimous passage of the new Cooperative Societies Act on August 01, 2012.
 Having attended the very first CaribDE Class in May of 2010, he served as a regional mentor for Classes 3 (St. Lucia, May 2011), 6 (Dominica, January 2012) and 8 (Trinidad, April 2012). By July 2013 he had earned the coveted International CUDE designation during the World Council's Conference in Ottawa, Canada. 51 Vincentian volunteers and employees have completed the CaribDE Leadership Course.
Under his leadership, GECCU led the way by merging with 3 small credit unions (2014); this triggered a rash of consolidations in St. Vincent (from 9 to 4 societies), Grenada and Dominica.
 He is currently in his 6th consecutive year as an elected member of the CCCU Board: the fourth Vincentian since Julian Jack, Kenwyck Lewis and Calvin Nicholls (deceased).
A COMPETITIVE GECCU
On the eve of his assumption of the General Manager position (December 31, 1998), GECCU was a single branch CU with an asset base of $40 Million. 22 years later GECCU has expanded into a nationwide network of 6 branches in Kingstown, Bequia, Georgetown, Canouan, South Rivers and Union Island. Its asset base is EC$$306M (US$114M), of which $170M ($63M) or 56% are in loans driven by $255M (US$95M) worth of Deposits. It enjoys healthy capital adequacy ratio of 16% (EC$49M or US$18M). GECCU is by far the largest CU and the second largest indigenous financial institution in St. Vincent and the Grenadines. It also has the largest CU membership in the OECS: over 44,500, 50% of whom are under 40 years. Served by 62 employees and over 26 elected volunteers, GECCU is recognized regionally a testament to the power of effective leadership, sustained customer engagement, efficient teamwork and smooth succession in the creation and redistribution of communities of wealth.
CEO Bowman's belief in the use of Information Technology to deliver better service and attract youth is borne out by GECCU's ever-evolving suite of digital services that include ATM, on-line, mobile and in the near future, point-of-sale applications and international debit cards. But whereas the younger generations are choosing digital, Lennox contends, "there is still a large percentage of our membership who find branches relevant; they want to speak to the human face of GECCU." Constant member engagement through zonal and workplace meetings, planning sessions, financial counseling and education driven through multi-media remain central to the balanced GECCU Brand.
"Credit unions are becoming more complex," he observes, "and we now have to fight alongside the best-in-class industries for the same talent. Ensuring that we are a well-regulated, efficient, effective organization and that our members' money is protected is very important to our relevance and independence as a major financial institution." Data analytics, enhanced mobile technology, member convenience, member education and community investment are therefore GECCU's hallmarks.
NEW PREMISES, NEW CEO
In June 2020, having long outgrown its old main branch premises, GECCU moved to new premises one block west on Halifax Street to better accommodate staff and members.
Customers now enjoy doing business from 8 a.m. to 3 p.m. in a more spacious and friendly setting, with seven tellers instead of four.
This is a timely move, as the new CEO Designate, Mr. Rohan Stowe, assumed duties on September 1, 2020. He is an economist, who held the position of Deputy Director in the Research Unit, ECCB.
Having smoothly overseen this double transition, the GECCU Board will next configure the transformation of the five properties that constitute the old location.
One key ingredient of Bowman's success is the strong awareness of the credit union difference and the high sense of ownership felt among GECCU Members. Another is his ability and luck in maintaining the calibre, diligence and confidence of successive boards of directors. His quiet advocacy is also exemplary: by proactively engaging the regulators, policy makers and other stakeholders, he sought to ensure that decisions were made in the best interest of our vital sector which has proven itself as a powerful instrument for the alleviation of poverty and for the promotion of social, economic and cultural development.
As he officially bids farewell this month-end to the Members, Board of Directors and Staff of GECCU, Lennox Bowman's parting words symbolize gratitude:
"The credit union sector means the world to me and I consider it a privilege and an honour to have been employed by an organization where helping people is simply doing my job."
Having had the honour to collaborate with him on many initiatives to build the Vincentian and Caribbean Movements, I am pleased to be joined by my immediate and the CaribDE Family to congratulate CEO Lennox Bowman on the occasion of his retirement from GECCU. Let us all wish him continued good health and prosperity in his future endeavours.