Posted on
A Salute to Lennox A. Bowman
Farewell to a Chief Executive Officer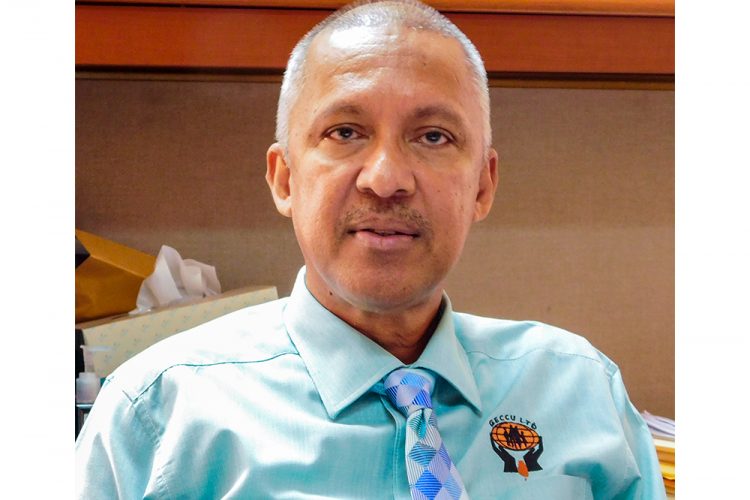 by Danny-Lee Francis
"The best leaders, when the job is done, when the task is accomplished, will hear the people say we have done this ourselves"
– Lao Tzu
The farewell of a prominent figure, especially one in the credit union fraternity, seems to resonate with more sadness than the words of welcome given years before at the commencement of his tenure. The role of a Chief Executive Officer involves making high-level strategic decisions that direct an organization's overall growth and sustainability. At a credit union, a unique organizational structure exists where members are at the top of the hierarchy and the leader of such an institution is required to uphold the credit union's ethos of "people helping people". In all of these roles, Mr. Lennox Bowman was very effective.
On August 1st 1994, Mr. Lennox Bowman walked into the office of the Government Employees' Co-operative Credit Union, located on Halifax Street and changed it forever. Unsure of what to expect, this former banker came with an open mind and an open heart. A credit union is a stark contrast from a commercial bank in that it focuses on the well-being of its members, offering training and education as well as low cost loans at affordable rates. The charismatic Bowman adjusted well and when the late Viola John retired as General Manager, Mr. Bowman successfully applied for the position and was appointed on January 2nd 1999, almost five years after he started working at the credit union. The position was later changed to Chief Executive Officer.
In an exit documentary with Mr. Bowman weeks before he demitted office, he outlined the many experiences that he encountered at GECCU. When asked to recall his first day he said, "I knew quite a few persons at the credit union, I was excited to be doing something that I thought about and wanted to do. I knew the structures of the banks but I was smart enough to not set my expectations too high in terms of those areas but come with an open mind and an open heart to do something that I was really looking forward to." He embraced the credit union with much enthusiasm and used his winning personality to bring about change in the organization. "I am a creative person" Bowman opined, "so I thought that a young fledging credit union was the laxative I needed to get that creativity out and what it helped me to do is merge two of my greatest love which were managing finance and dealing with people".
For 21 years, Mr. Bowman steered the credit union through many successes. He played a critical role in leading organizational growth and under his leadership, GECCU has become the largest credit union in St. Vincent and the Grenadines and the second largest in the OECS, boasting a membership of over 45,000 and assets of EC$307M, a feat that he was especially proud to accomplish. "We have more than half of the working population of SVG registered here, we have six offices. There's so much to be proud of but prudent risk management will tell you that we cannot rest on our laurels. The financial industry is a very fickle industry, you could be here today thinking you're doing well and tomorrow you're not doing well. So I think that we are in a good place to continue growing and most of all I think that we have the staff to make that happen."
Mr. Bowman is credited with steering GECCU into the 21st century by expanding programs and services to thousands of members. He has worked tirelessly to advance the credit union's objectives by building a competent and well trained staff with sound advice and leadership from the different Boards and Committee members. "In the first three years, I was like a sponge soaking up everything and the founding fathers and stalwarts in the union welcomed me with open arms and I listened attentively and I realized that this credit union business was where my heart was, just dealing with people." He also added that GECCU has had some amazing Boards and Volunteers whose expertise he drew on for many years.
Mr. Bowman was also instrumental in the expansion of GECCU's operations from its main office on Halifax Street to six branches across St. Vincent and the Grenadines. GECCU currently offers financial services in Kingstown, South Rivers, Georgetown, Bequia, Canouan and Union Island. Although his vision of opening a sixth sub-office in Troumaca was not realized during his tenure, Mr. Bowman is hopeful that it can still materialized after his exit.
When asked what he considers to be his main accomplishment at GECCU, he stated that "without a doubt we can look at a lot of things, we can look at our computerization, our trajectory on the mobile communication platform, our buildings, systems that we've put in place but frankly speaking, it's the staff that we've built. I do not think that GECCU can be the way it is now if we as a staff did not work together as we did."
He beamed with pride when asked about his thoughts about the many accomplishments GECCU made under his tenure. "If you look at where we have come from, from the time we started until now, we have come a long way. The persons who envisaged, the founding fathers who started the credit union movement in St. Vincent and the Grenadines and more specifically GECCU, we all stand on their shoulders and I am sure even those who have passed on are looking down on us and saying yes they're going good."
Mr. Bowman's announcement of his intended retirement from GECCU sent immediate shock waves through the credit union fraternity and since then, there has been an outpouring of love to this credit union giant and well-wishes for his future plans. Although he expressed profound sadness about leaving his credit union family, he is excited and very optimistic for the future. As for his next move, Mr. Bowman is giving himself some room to spend more quality time with his family. He surmised in his parting words that he believes the credit union is in a great place to drive further growth. "With the infrastructure we have, the systems that we have put in place and continue to build on, I think we are in a good place and I believe I speak for all the staff and the board and everybody to say that we are proud of where we are."
Mr. Bowman will spend his last day at GECCU on Wednesday September 30th 2020. Indeed, we the staff, members and volunteers at GECCU could not be more proud of our dear CEO. We salute his work and his leadership and rest assured, his legacy will remain alive and strong among his credit union family.